Russia's missile strikes bring Ukraine closer to 'no-fly zone': Deputy PM
Russia's massive rocket attacks on Ukraine earlier this week appear to have backfired for the Kremlin, prompting a "very serious" reassessment of Western military aid to Kyiv and bringing it closer to the long-cherished goal of having a no-fly zone over the country. said Deputy Prime Minister Olha Stefanishyna.
Stefanishyna, the Deputy Prime Minister for Euro-Atlantic Integration, said news week in an exclusive interview that the nationwide attacks caused "massive destruction" but ultimately represented an expensive expression of desperation.
Nearly 100 rockets hit cities across Ukraine on Monday and Tuesday, crippling power grids and internet networks and cutting off vital water and gas supplies. But Moscow's infrastructure blitz didn't last, perhaps a testament to its dwindling supply of high-precision ammunition.
"Almost half of these missiles were destroyed by Ukraine's air defense systems, and all power grids have already been restored," Stefanishyna said on Thursday. "Russians are spending hundreds of millions of dollars just to show they're desperate."
news week contacted the Russian Foreign Ministry for comment.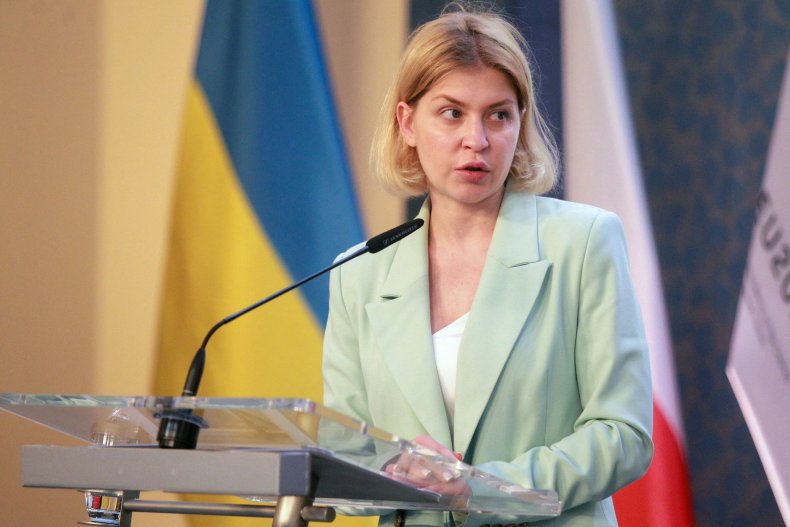 Kiev's western partners were quick to express disgust at the Russian attacks, which killed at least 19 and wounded more than 100. The US, Germany and Spain have all since pledged more anti-aircraft systems or acceleration of already committed platforms. Defense Minister Oleksii Reznkiov on Tuesday praised "a new era of air defense".
Stefanishyna tells news week that the rocket attacks have significantly influenced Western thinking about Ukraine's defence.
"It's unfortunate that it took us eight months to make sure we were heard when we cried out about putting in place a no-fly zone over Ukraine," she said. "Now we're on our way."
Ukrainian officials have expressed hope that this week's blanket bombings will accelerate talks on other Kiev priorities, including a G7 price cap on Russian oil exports, Ukraine's NATO membership, its path to joining the European Union and bilateral security deals that in the recently proposed Kyiv have been laid security compact.
"The security guarantees based on the Kyiv Security Compact, recently submitted by the Ukrainian side, were taken very seriously," Stefanishyna said.
"The postponement is very serious; we can see it from the statements," she said of comments and pledges from Western partners.
"Now we need to keep that momentum and make sure that the next time Russia decides to use a few hundred million dollars to kill Ukrainian people, we can protect not just 50 percent of our skies, but 100 percent."
Anti-aircraft systems are high on Ukraine's shopping list, but leaders in Kyiv have cited the Russian strikes as evidence of the need for warplanes and other advanced weapons, such as the long-range ATACMS guided missile launched from the HIMARS platform.
"I am far from answering yes," Stefanishyna said when asked if Ukraine was close to securing fighter jets and ATACMS. "But the progress is really, really significant."
Diplomatic Freeze
Russia's recent escalations – including its mobilization order, alleged annexation of four occupied Ukrainian regions, missile attacks and nuclear threats – have also increased diplomatic efforts to isolate Moscow.
This week, the G7 declared that Moscow had "blatantly violated" the United Nations Charter, while the UN General Assembly overwhelmingly backed a vote condemning the Kremlin's recent annexations.
Stefanishyna hailed these developments as "a very strong reaction". The deputy prime minister said she hopes recent events will strengthen Western resolve towards Ukraine, particularly within the EU family that Kyiv hopes to join in the years to come. Ukraine, which has already been granted candidate status, hopes to start accession talks with the bloc by the end of 2023.
"We believe that consensus has been reached on most important things," she said. "I am sure that the European Union, Europe in general, will survive this winter and become stronger after this winter."
"I think this process will pave the way to much stronger restrictions on the Russian Federation," Stefanishyna added. "It will take time, but I'm sure there will be an opportunity in winter or spring."
Moscow's nuclear brinkmanship worries Western leaders, sparking warnings of devastating conventional — but non-nuclear — retaliation against any Russian nuclear strike.
Stefanishyna called for a "zero tolerance" approach from Kiev's foreign partners. "I am sure that this information was transmitted to the Russian Federation through internal channels in a very, very detailed way," she said.
"Russia continues its nuclear blackmail against Ukraine, which is not a nuclear state, paving the way for other nuclear states – shall we say unfriendly nuclear states – to act in the same spirit. So this is a very dangerous moment."
The invasion of Moscow has also increased the risk of catastrophic accidents – or sabotage – at civilian nuclear power plants on Ukrainian territory, whose radioactive fallout could potentially blanket much of Europe. Stefanishyna said the West must be as uncompromising on this threat as it was on the threat of nuclear warheads and beware of Russian "gymnastics" of blaming Kyiv.
"I think that further efforts are needed to send a clear signal to the Russian Federation," Stefanishyna said. "It makes no difference whether it's a missile or a targeted action to create a nuclear threat from power plants."
"The signal should be very clear: whatever actions could have a massive impact on the territory of Ukraine, the territory of Europe… this would be considered a war crime. This would be considered the use of nuclear weapons, and it should have met with a proportionate response."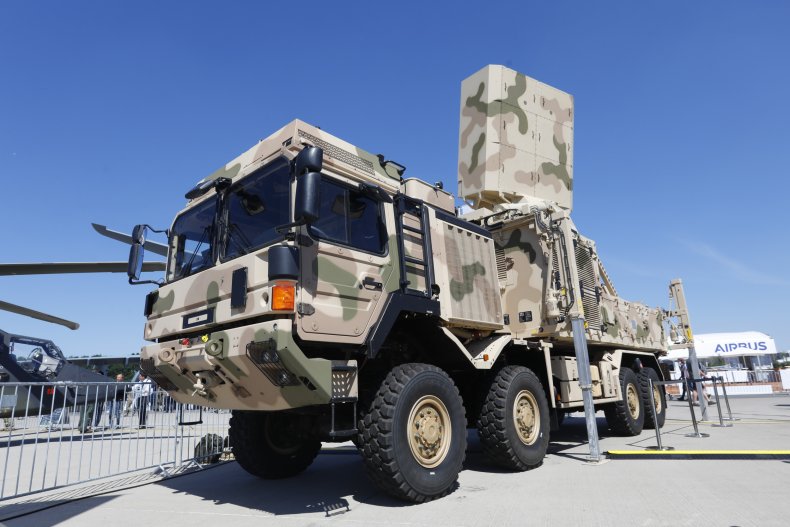 A distant peace
Ukrainian troops are still advancing on the southern and eastern fronts, despite Putin's efforts to destabilize Kyiv. The leaders have set lofty war goals – the complete liberation of all Ukrainian territory according to the 1991 borders, NATO membership, reparations from Russia and war crimes trials for Russian leaders.
Everything is unlikely to be achieved – particularly reparations and high-level prosecutions for war crimes – but such ambition speaks of confidence in Kyiv. Earlier this month, President Volodymyr Zelenskyy signed a decree barring negotiations with Putin after the annexation of occupied Ukrainian territory.
"Every war ends in negotiations," said Stefanishyna. "As my President said, these negotiations may not be conducted with the current President of the Russian Federation."
Putin's annexation order and celebration, she said, "left literally no room for consensus."
Ukrainian leaders have rejected calls from abroad to make concessions to Russia in exchange for peace. Peace or even a truce, they say, will only prolong the conflict.
"The war started in 2014," said Stefanishyna. "It took eight years for the Russian Federation to gather resources and start the massive, all-out and absolutely unprovoked war on the entire territory of Ukraine."
"Ukraine's greatest and most important interest is to ensure that there is no further war before negotiations begin."
"The more reluctance the democratic world shows to take action to hold Russia accountable, the stronger the Russian Federation will become," she said, warning that continued fighting would narrow the qualitative gap between the two sides.
"This war gives the Russian Federation, the Russian army, a valuable experience of fighting with a NATO army already trained to NATO standards, NATO chains of command equipped with the latest NATO equipment. So they will grow stronger, even though they have been defeated."
"Believe me, their services collect the information and data they receive," Stefanishyna said, warning of "myopia" among Western politicians.
When asked if that meant Ukraine would refuse peace while Russia continued to pose a military threat, Stefanishyna replied, "Yes."
Meanwhile, Ukraine is trying to play to its battlefield advantage while the Kremlin tries to aggravate the looming winter.
"We have the entire map of threats or attacks that Ukraine may face during the winter period," Stefanishyna said. "Some of them have already taken place this week. Some of them may happen. And, of course, the nuclear threat has not gone anywhere. So we understand what kind of challenges are ahead and we are prepared for that."
"We've already experienced so much horror in these eight months that surviving the winter doesn't seem like the worst of them."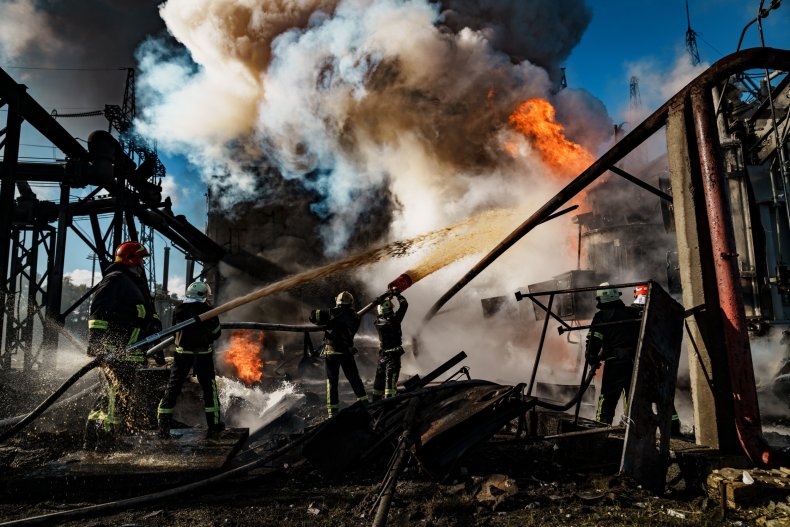 https://www.newsweek.com/ukraine-no-fly-zone-west-missile-strikes-russia-war-1751894 Russia's missile strikes bring Ukraine closer to 'no-fly zone': Deputy PM