San Francisco Police Department is seeking authorization to use robots to use deadly force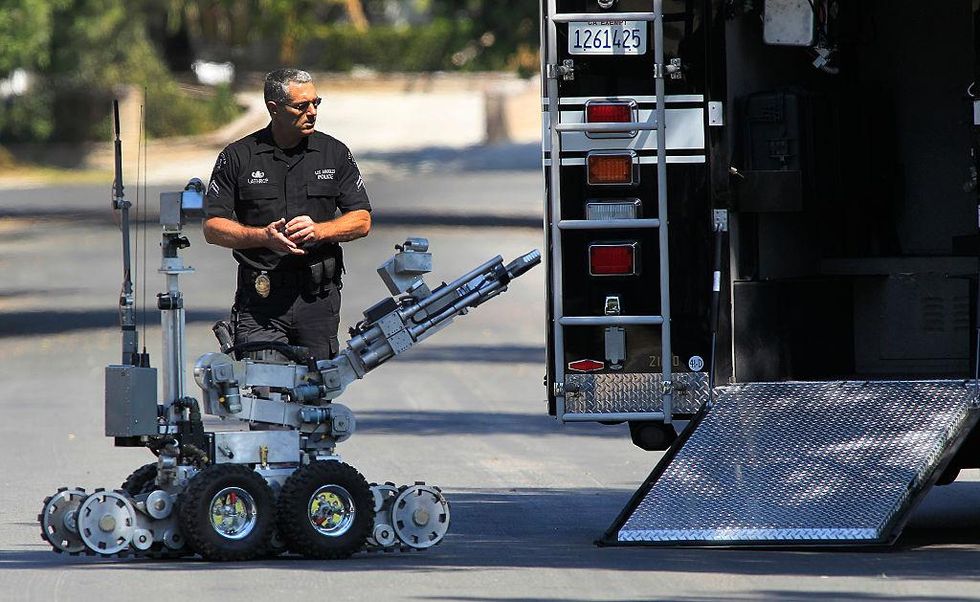 A recent draft proposal by the San Francisco Police Department could empower cops to use remote-controlled robots to use deadly force on suspects. KRON TV reported.
If passed, law enforcement use it politics will allow the SFPD to use high-performance robots for "training and simulations, criminal arrests, critical incidents, urgent circumstances, execution of a warrant, or during suspect device assessments."
According to the proposal, "robots will only be used as a deadly force option when the threat of death to members of the public or officials is imminent and outweighs any other force option available to the SFPD."
The policy also stated that only trained agencies who have completed the FBI's 6-week dangerous devices school are allowed to operate the remote-controlled robots.
The proposal mentions 17 robots acquired by the SFPD, 12 of which are described as working. One of these is the IRobot FirstLook, a lightweight throwable robot capable of examining hazardous material by providing operators with visual, auditory, and sensory feedback. It can also climb small obstacles, turn in place, and correct itself if it falls over.
The controversial proposal argues that the use of robots will provide law enforcement with situational awareness and ground support.
On November 14, the Rules Committee reviewed the updated policy and unanimously voted to submit it to the Board of Directors for a Tuesday vote.
Tifanei Moyer, a senior attorney with the San Francisco Bay Area Civil Rights Advocate's Committee, told the Mission Local that she is a critic of the proposal.
"We live in a dystopian future where we're debating whether police can use robots to execute citizens without a trial, jury or judge," Moyer explained.
"It's not normal," Moyer added. "No lawyer or ordinary resident should carry on as if it were normal."
SFPD spokesman Officer Robert Rueca told Mission Local that none of the robots acquired by the department had been used to attack anyone. Instead, remote-controlled robots are mainly used to examine and defuse potential bombs and to monitor dangerous areas.
A similar policy was recently proposed in Oakland, California, and the police department eventually decided to remove language that would allow robots to be used for deadly force.
"SFPD has always had the ability to use deadly force when the risk of death of members of the public or officials is imminent and outweighs any other available force option," said SFPD Officer Eve Laokwansathitaya edge. "SFPD has no specific plan as the unusually dangerous or spontaneous operations requiring the SFPD to deliver deadly force via a robot would be a rare and exceptional circumstance."
https://www.theblaze.com/news/san-francisco-police-seek-approval-to-use-robots-to-deploy-lethal-force San Francisco Police Department is seeking authorization to use robots to use deadly force