Sanibel Island 'changed forever' as videos show aftermath of Hurricane Ian
Mayor Holly Smith of Sanibel Island — just southwest of Fort Myers — wrote in an open letter to residents Thursday night that the devastation caused by Hurricane Ian "changed her community forever."
"I'm struggling to find the words to express my feelings as I'm sure most of us do as we look back over the last four days," Smith wrote. "Our whole lives and our island have changed forever. What we do tomorrow and in the coming days and months will redefine and strengthen our community."
Several videos shared on social media have supported Smith's words, including one shared by WeatherNationwhose aerial photographs show homes blown to pieces between flooded streets.
"The only road in/out of the island has been badly damaged and rescue operations are being carried out using a Coast Guard helicopter," WeatherNation commented on the video.
Florida Gov. Ron DeSantis told the public in his Update Thursday morning that the road leading to the island – the Sanibel Causeway – must be rebuilt along with the Pine Island Bridge.
Lee County Sheriff Carmine Marceno also released one Video on Twitter with a note to see the episodes firsthand.
"We are devastated," Marceno said in the tweet. "Our hearts go out to each affected resident. The Lee County Sheriff's Office is mobile and will stop at nothing to help our residents."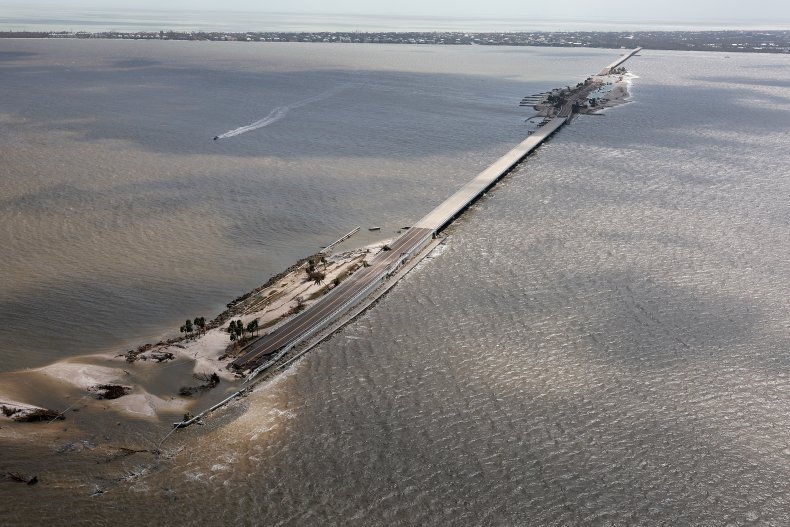 In the video, bird's-eye view footage captured in Lee County shows debris strewn between flooded streets, damaged bridges and smoke billowing from roofless homes. Lee County includes Sanibel Island as well as Fort Myers and Cayo Costa, the island where Hurricane Ian first made landfall Wednesday afternoon.
Marceno said during an interview with Good morning America Thursday that rescue workers were "just beginning to scratch the surface" while responding to residents trapped in their homes. Marceno also declined comment after predicting the death toll from the storm would be in the "hundreds".
Another video posted by chef José Andrés, founder of the nonprofit World Central Kitchen, shows several flood pockets around the island. The video was captured by group worker Sam Bloch, who flew to the island on Thursday to help provide fresh meals.
"We see such terrible destruction," wrote Andrés. "We @WCKitchen will be providing hot meals here with Florida to ensure everyone who needs food is doing well."
In a separate video, Bloch posted from the Sanibel Island Fire Department, who Bloch said will be working with the nonprofit to ship groceries to the island for residents who are unable to walk.
In her letter, Mayor Smith said the city's first goal will be to rescue all stranded residents on the island and get them to safety.
"As we speak, coordination efforts are taking place," Smith wrote. "City manager [Dana] Souza and I just finished a phone call with Governor DeSantis. We have short and long term challenges and the governor has given us assurances that our needs will be met."
More than 500 residents had been rescued by search and rescue teams in Lee and Charlotte counties as of Thursday afternoon, according to a tweet from the Florida Division of Emergency Management.
news week has reached out to Smith for updates on the search and rescue effort.
https://www.newsweek.com/sanibel-island-forever-changed-videos-show-hurricane-ian-aftermath-1747734 Sanibel Island 'changed forever' as videos show aftermath of Hurricane Ian