Sarah Huckabee Sanders looks at culture wars as she takes office
Sarah Huckabee Sanders, Arkansas' newly sworn governor, appears poised to take on a similar playbook of other GOP governors by fomenting culture wars during her tenure.
On her first day as governor, the former White House press secretary signed a series of executive orders for Donald Trump, including banning the teaching of critical race theory in schools and banning the use of the word "Latinx" from all government documents.
During her inaugural address on the steps of the Arkansas State Capitol, Sanders vowed she would not allow children with "left political agendas" to be "brainwashed" without specifically mentioning CRT — a scholarly study examining systemic racism in American law and institutions.
In one of seven executive orders the governor signed just hours after taking office, Sanders vowed to eliminate all "indoctrination" of school education policies, including the teachings of the CRT.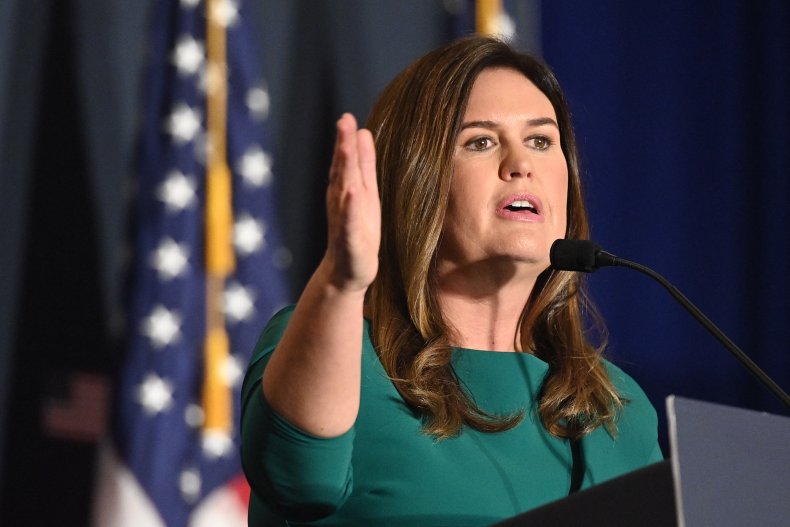 "Critical race theory stands in opposition to traditional American values ​​of neutrality, equality and fairness," the order states. "It emphasizes skin color as a person's primary characteristic, thereby resurrecting segregationist values ​​that America has fought so hard to reject."
Sanders pushed for a ban on teaching CRT in Arkansas schools, even though the subject is a college-level course not taught in any K-12 public schools.
In a statement, the Arkansas Democratic Party said Sanders' first term will be remembered for attacking the state's schools and teachers for apparent "indoctrination" of children.
"Arkansas Democrats stand by our teachers and know they are far too busy primarily grading papers, buying their own supplies and creating lesson plans to indoctrinate anyone," the statement added.
Elsewhere, Sanders also signed an executive order banning official Arkansas documents from using "Latinx" — a term that substitutes Latino/Latina gender terminology to refer to Latin Americans.
Sanders cited a Pew Research poll that found only three percent of American Latinos and Hispanics use the word "Latinx" to describe themselves.
The word "Latinx" has also been criticized for imposing American standards on a foreign language, with the Executive Order also noting that the Real Academia Española, which governs the Spanish language, has officially discouraged the use of "x" as an alternative to "o " and "a" in Spanish.
"Ethnically insensitive and derogatory language has no place in official government documents or state employee titles," the order said.
"The government has a responsibility to respect its citizens and to use ethnically appropriate language, especially when referring to ethnic minorities."
Sanders appears to be attempting to appeal to the Republican base, using similar tactics employed by other high-profile GOP governors. For example, Ron DeSantis of Florida has previously vowed to make the Sunshine State a place where "wake to die."
One move against the "indoctrination" of children that DeSantis pushed through was the introduction of the so-called "Don't Say Gay" law, a controversial law aimed at restricting discussion of sexual orientation and gender identity in certain classes in Florida schools to forbid .
In late 2021, Glenn Youngkin also made banning CRT one of his key policies during his campaign for governor of Virginia, although there was no real suggestion it was discussed in K-12 classes
The tactic seemed to work as he was able to defeat his Democratic opponent Terry McAuliffe, who was also heavily criticized for dismissing parents' concerns on the issue that they shouldn't be telling schools what to teach.
https://www.newsweek.com/sarah-huckabee-sanders-crt-latinx-arkansas-governor-1773214 Sarah Huckabee Sanders looks at culture wars as she takes office