Scammers taking to social media to trap their targets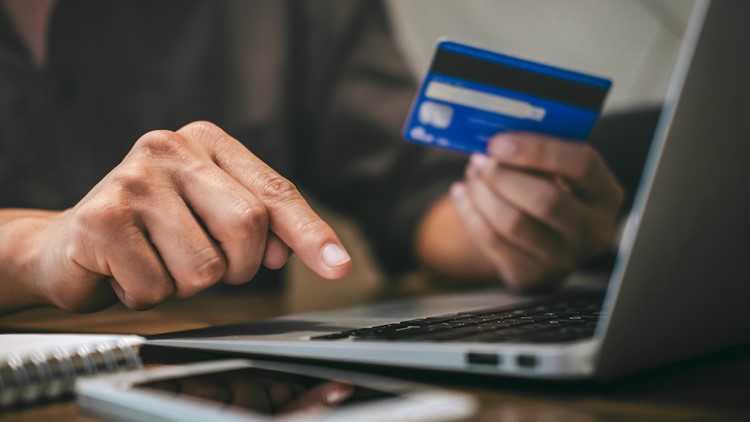 As of November 2022, online shopping scam reports to the BBB Scam Tracker remain just below the all-time high set in 2021.
DALLAS — With the holiday season finally here, it also means that scammers are out there trying to take advantage of shoppers. And one of their main places? social media.
According to consumer reports to the Better Business Bureau (BBB), since the pandemic, shoppers have become increasingly vulnerable to online retail scams that lure shoppers with hard-to-find items, promises of low prices and easy delivery.
According to Monica Horton, spokeswoman for the Better Business Bureau, when people are often caught without thinking about what they're clicking, many people on social media quickly jump back and forth between different links and websites.
"I just scroll through these social media feeds," Horton said. "And you see an ad in that feed. Often the catch is that it is a very rare item you are looking for. Hard to find. Hard to get. If it sounds too good to be true, it usually is."
Ronnie Lewis lives in Las Colinas and first saw a necklace from an Instagram ad for a small, local business. He liked it, bought it and it was duly delivered.
However, when he bought two more for $100, the company began saying there would be a delay in the delivery of his items.
"They went on and on as they were a small business and COVID messed up their supply chain," Lewis said. "They kept telling me to be patient."
Lewis eventually decided it wasn't worth the hassle and asked for a refund. The company tied him up again and told him to wait. But after months of back-and-forth, the company finally stopped communicating with Lewis and the online website went offline.
No necklace, no refund," Lewis said. "Once you've bought and your money is taken, you don't hear anything, so you just get stuck in limbo."
Shannon Wolf also recently clicked on a social media ad for jewelry she thought was from Kay Jewelers.
But when she received her email receipt after ordering, it was in a different language from a different country.
"It was immediately clear to me: Not Kay Jewelers," says Wolf.
Wolf said her ring finally arrived. However, she also said it was clearly evident that it was nowhere near the ring she ordered.
"It should be like a sapphire," Wolf said. "It had a bunch of metal. The prongs. The metal wasn't done right, and the metal was covering the stone."
Online retail fraud remains one of the top reported fraud cases for these groups, according to the BBB.
"Before you enter any payment information, be sure to check this website and make sure you're where you think you are," Horton said.
Emotional purchases, like wedding dresses or pets, can lead consumers to ignore red flags. The BBB said here are some common warning signs:
Prices too good to be true.
Sites that look legitimate but lose credibility upon closer scrutiny.
Credit card payment failure results in the seller requesting payment through cash-sharing apps like Zelle and Venmo, or with gift cards.
RELATED: Rent fraud hits McKinney family hard as scammer pretends to own home and collects rent
Although financial losses from fraud appear to be lower overall, they remain high compared to pre-pandemic years, the BBB said. Almost 36% of all online retail scam reports to BBB Scam Tracker come from a fake website. Scammers used social media and email to initiate about 40% of reported scams.
According to reports from BBB Scam Tracker, scammers target three key moments in the shopping process:
Before making a purchase, consumers may encounter fraudulent advertisements on social media.
When shopping, buyers can be lured by artificially low prices or fake websites.
After purchase, scammers send fake tracking information and ask for more money for safe delivery.
Online car sales scams continue to result in high losses for consumers. A sample of 100 BBB Scam Tracker reports revealed an average loss of more than $5,000. According to the BBB Institute, fake pet scams are among the most common, accounting for 18% of all online retail scams in 2022. These numbers probably represent only a fraction of the problem. A study using FTC data found that only 4.8% of mass market fraud victims ever complain to the BBB or a government agency.
The BBB also gave these recommendations for researching online retailers:
Find BBB company profiles and customer reviews at BBB.org.
Look for online reviews.
Check out Scamadviser.com to know how long a website has been up. A recently created website can be a red flag.
Check the website URL for misspellings or other errors.
Examine the URL with Google Transparency Report Tool.
Use a map app to verify the business address.
Remember the saying: if a price is too good to be true, it probably is.
Make sure you can pay with a credit card that offers the best protection against loss.
Treat a social media or email advertisement with suspicion until you investigate the company behind it.
https://www.kvue.com/article/news/local/scammers-heading-to-social-media-to-catch-their-targets/287-e76ad11c-b65c-4c84-aff5-6f21663c8d2d Scammers taking to social media to trap their targets