Scientists invent nano-sponges that remove pollutants from wastewater
A research team has developed nanosponges that can effectively filter organic pollutants out of the water. Researchers Changxia Li and Freddy Kleitz from the Faculty of Chemistry at the University of Vienna in Austria built their own material for the filters.
Using a combination of a highly porous covalent organic framework (COF) and graphene, they found they could effectively remove pollutants. The results of the study were published in the weekly journal Peer-Review applied Chemistry.
The new material efficiently filters out organic pollutants such as organic dyes, which are mostly water-soluble, non-degradable and sometimes even carcinogenic, the university announced on August 1.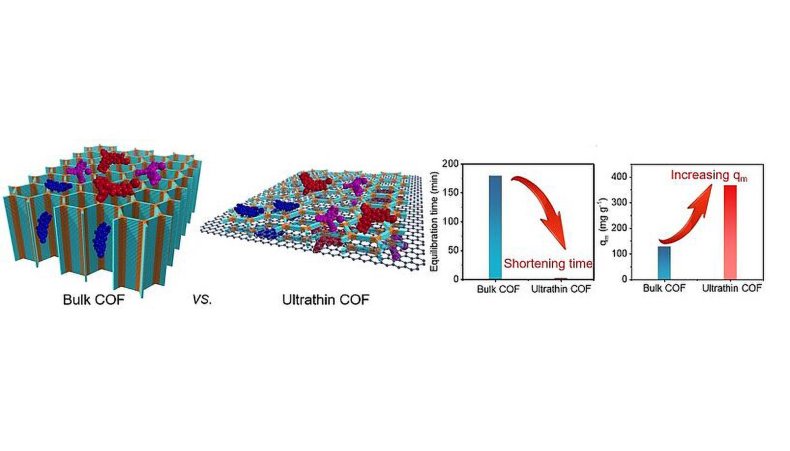 The study's first author and postdoctoral fellow Li said, "There are several ways to purify water today, including activated carbon filters, but there is still room for improvement in terms of the efficiency or adsorption capacity of the applications."
According to a university statement, porous materials have a much larger total surface area than non-porous ones and can therefore attach a particularly large number of molecules to the surfaces during adsorption.
COF, a new class of particularly porous materials, are also characterized by low density and low weight.
The researchers report: "We have developed a method to form COF with water in a comparatively environmentally friendly way and were able to use it to design small "sponges" with special pore sizes and pore shapes in the nanometer range and a coordinated negative surface charge, which the positively charged target molecules, i.e. our dyes, pulls very selectively out of the water.
"Just like the sponge absorbs the water, only here it's the pollutants."
According to the researchers, when using COF powder, the inner pores of the material are no longer available for the pollutants because the outer edge pores are clogged, especially with large pollutant molecules.
The university explained: "The newly developed composite material offers a continuously permeable structure. To do this, the researchers grew COF on thin graphene nanosheets.
"The combination of graphene – essentially a 2D layer of carbon atoms – and the COF layer, which is up to two nanometers thick, resulted in a compact, open 3D structure.
"The ultra-thin COF layer could expose more adsorption sites than the loose COF powder."
"The large pores of the graphene network in combination with the wafer-thin COF layer and its large number of adsorption sites therefore enable particularly fast and efficient wastewater treatment," say the researchers.
The relatively small amount of material needed for graphene and the prospect of reusing the composite material as a filter make the development of these nanosponges quite inexpensive.
This story was provided to Newsweek by Zenger News.
https://www.newsweek.com/scientists-invent-nano-sponges-that-scrub-pollutants-waste-water-1732970 Scientists invent nano-sponges that remove pollutants from wastewater