Scott Derrickson on why he left 'Doctor Strange 2'
It's been more than a year since Marvel's "Doctor Strange" sequel "Doctor Strange in the Multiverse of Madness" hit theaters with Sam Raimi as director.
Scott Derrickson, who directed the first Strange production, was well on his way to directing the second (along with Jon Favreau, Peyton Reed and the Russobrothers, who have been involved in more than one film about a Marvel character ) when he suddenly walked away from the project citing creative differences.
Instead, he made the successful horror film "The Black Phone" and dedicated his latest appearance to terror, an entry in the horror anthology "V/H/S/85". But according to the filmmaker, he has no ill will towards anyone at Marvel and believes he made the right decision to leave the film.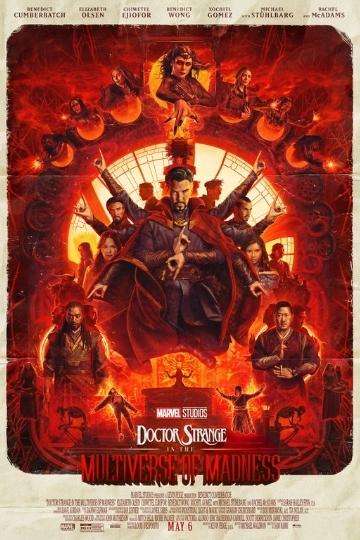 "Enter a new dimension of strange."
74
PG-132 hours 6 minutesMay 2, 2022
Scott Derrickson talks about leaving Doctor Strange in the Multiverse of Madness
In a new interview promoting his latest effort, Derrickson insists his reasons for exiting the Strange sequel remain solid.
Here's what he told The Playlist's "The Discourse" podcast:
"All I can say is that what we have said publicly is exactly the truth. We had real creative differences. You know, the movie I wanted to make and the way I wanted to make it was different than – it became more and more obvious that we were competing against each other. And that's how you make a really bad movie, in my opinion. When the producer or the studio and the filmmaker make different films, you end up with a monstrosity and that's why I had to step away."
Although Sam Raimi's version of the "Strange" sequel did have horror moments, the film Derrickson developed was, in his words, an "extreme departure" from the first film and focused much more heavily on the scares. But it wasn't meant to be.
Is Derrickson still friends with Marvel?
Despite the differences and his eventual departure, Derrickson hasn't burned any bridges with Marvel HQ.
As he outlines:
"I was at the premiere. I'm still friends with Kevin [Feige] And everything with me and Marvel is really cool. They invited me to the premiere and I went. And I'm friends with Sam [Raimi]. I love Sam, so there's no bad blood about it."
In the end it worked out for everyone. While Multiverse of Madness didn't receive quite as much critical acclaim as the first film, it still grossed nearly a billion dollars worldwide. Derrickson, meanwhile, saw The Black Phone (based on a Joe Hill story and starring Ethan Hawke as a child-snatching villain) gross more than $180 million worldwide on a budget of $18 million.
"V/H/S/85," meanwhile, will land on horror streaming service Shudder this Friday.
Other similar films like "Doctor Strange in the Multiverse of Madness:"
To watch our exclusive interviews with Scott Derrickson and the cast of The Black Phone, please click on the video player below.