Senators seek answers from FBI on laptop probe
Republican Senators Chuck Grassley and Ron Johnson sent a letter to the FBI on Thursday asking the agency to explain alleged interference in the Hunter Biden laptop investigation.
Hunter Biden was the target of heavy GOP criticism even before the 2020 election, when his father, President Joe Biden, campaigned to defeat then-President Donald Trump. The younger Biden is being investigated in connection with possible money laundering, federal campaign finance, tax and foreign lobbying violations. The investigation initially focused on his overseas business ventures while his father served as vice president, but reportedly expanded.
Grassley said in a statement Friday that FBI Assistant Assistant Director of Counterintelligence Bradley Benavides and FBI Intelligence Analyst Nikki Floris, on behalf of the FBI and the intelligence community, issued an "unnecessary briefing on matters related to the senators' investigation." submitted against Hunter Biden. "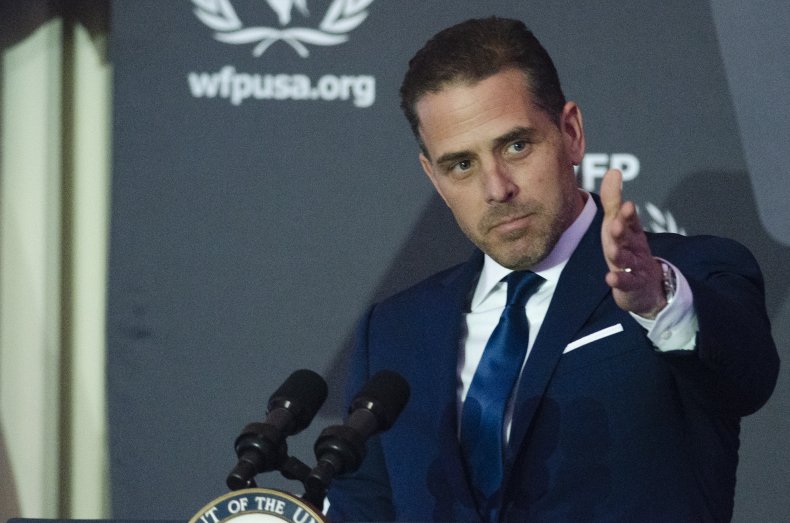 "The briefing led to a leak that falsely labeled the investigation as advancing Russian disinformation," the statement said. Now the GOP Senators from Iowa and Wisconsin want both FBI officials to appear for a transcribed interview to explain the alleged FBI interference in the Hunter Biden investigation.
The senators wrote in the letter to Floris and Benavides that "FBI officials initiated a program to downplay derogatory information about Hunter Biden in order to de-investigate his potential criminal exposure, labeling it 'disinformation.'"
They added that "whistleblowers have also claimed that local FBI leadership instructed employees not to look at Hunter Biden's laptop immediately after the FBI received it."
Hunter Biden's laptop reportedly contained a 2015 email from Vadym Pozharskyi, an adviser to the board of directors of Ukrainian energy company Burisma, who was seeking a meeting with his father, who was then serving as a vice president under former President Barack Obama.
Grassley and Johnson claimed the FBI acted in a biased manner that helped the Democrat.
"Put simply, the unnecessary FBI briefing provided the Democrats and liberal media with a vehicle to spread their false narrative that our work is fueling Russian disinformation. Although you stated that the FBI had no intention of 'interfering' with our investigation, the practical ramifications of such an unnecessary briefing and the resulting leaks created disruptions that frustrated and hampered Congressional oversight efforts," they wrote in their Thursday letter to FBI officials.
Both Republican senators have previously requested additional information related to the August 2020 briefing, but did not receive an "adequate" response from FBI Director Christopher Wray, according to Grassley. Wray is a Republican and was appointed by Trump in 2017.
"The FBI has consistently failed to fully respond to each request and to provide these critical records, casting further doubt on the true purpose of the briefing," the senators said in their letter.
In an Aug. 24 letter to Justice Department Inspector General Michael Horowitz, Wisconsin Senator Johnson said new whistleblower allegations about Hunter Biden's laptop indicate a lack of adequate government oversight and that "the American people deserve transparency and allegations of the Government corruption is expected to be fully and promptly investigated."
Johnson said his office received new information from the whistleblower about material on the laptop that the FBI received from a computer store in Wilmington, Delaware, ahead of the 2020 election. The whistleblower claims FBI officials told employees they were "not looking at this Hunter Biden laptop," according to the senator.
"These new allegations provide even more evidence of FBI corruption and again urge you to take immediate steps to investigate the FBI's actions regarding the laptop," Johnson wrote to Horowitz.
His letter continued: "Based on numerous credible whistleblower disclosures, I understand that the FBI cannot be trusted with Hunter Biden's laptop. the harder it becomes for you to uncover the truth and hold individuals accountable for wrongdoing."
Newsweek reached out to the FBI's press office in DC for comment.
Hunter Biden has consistently maintained his innocence. His father has expressed his confidence in his son and has assured him that he will not interfere in the Justice Department's investigation. US Attorney for the District of Delaware David Weiss has led the investigation since it began under Trump and was asked to stay when Biden took office.
https://www.newsweek.com/hunter-biden-senators-demand-fbi-provide-answers-regarding-laptop-probe-1737574 Senators seek answers from FBI on laptop probe