Sexual assault lawsuit against Jerry Jones moves forward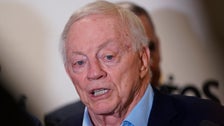 Dallas Cowboys owner Jerry Jones' latest appeal in the sexual assault lawsuit against him was rejected by the Texas Supreme Court last week.
The lawsuit accusing Jones of sexually assaulting a woman named JG was dismissed in February 2022, but a state appeals court overturned that decision. according to the Dallas Morning News.
In court documents, JG claims that Jones "sexually abused her by forcibly kissing her on the mouth and grabbing her without her consent" in the Tom Landry Room at AT&T Stadium. According to the Dallas Morning News, this happened on September 16, 2018. The Dallas Cowboys organization was "complicit and negligent in knowing of Mr. Jones' history of similar behavior and failing to properly supervise him," the court document states.
JG said the alleged sexual assault caused her "severe emotional distress" and "psychological pain and suffering" and caused her medical costs, according to the Dallas Morning News.
"My client is pretty excited about it," Thomas Daniel Bowers, JG's attorney, told HuffPost on Thursday. "It took a while, but honestly we were pretty confident that the court would make the right decision, so it's a great day for victims of sexual abuse and also for our client."
He said JG hopes for justice.
"When someone violates you, you expect them to get justice and for a jury to hear the matter and make a decision, so there is no way out for them; he is on his way to trial."
Jones' attorney did not respond to a request for comment.