Showtime drops the Ron DeSantis documentary shortly before it airs without explanation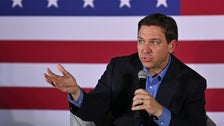 The cable network has mysteriously dropped a May 28 episode News magazine series "Vice". It was about the activities of the governor of Florida as a lawyer for the US Navy in Guantanamo Bay. The news report was titled "The Gitmo Candidate & Chipping Away," described in a now scrubbed Showtime advertisements as an investigation into "alusions by former Guantanamo Bay detainees that Florida Governor Ron DeSantis witnessed acts described by the United Nations as torture during his previous service at the controversial detention center as a Navy JAG officer." were convicted," the outlet noted.
Showtime told the showbiz industry that it would not comment on scheduling decisions. A Vice representative said that current affairs shows could have schedule changes and that airing the episode is still under discussion.
HuffPost reached out to DeSantis' camp and didn't immediately get a response.