Skullcrusher packs an emotional punch with their new "Quiet" album
Judging by the impressive and doomy name, it would be natural to assume that singer-songwriter Helen Ballentine's stage name, Skullcrusher, specializes in heavy metal or punk rock. But Skullcrusher's sound doesn't come from either genre. Rather, the music is subdued and atmospheric indie folk rock – more in the spirit of Nick Drake, Marissa Nadler and Phoebe Bridgers than the Misfits and Metallica.
"Initially, it came out of this wanting to say, 'Hey, here I am. I know you might not think I have much to say. But here I am,'" Ballentine says news week. "It's meant to be that statement from someone who often feels a little bit overlooked and feels a little bit like this very small person who has a lot of anxiety and social anxiety a little bit, which has been difficult for me because it works and it sure does more." draws attention to you. But I think it was also cool to be able to explain that to people.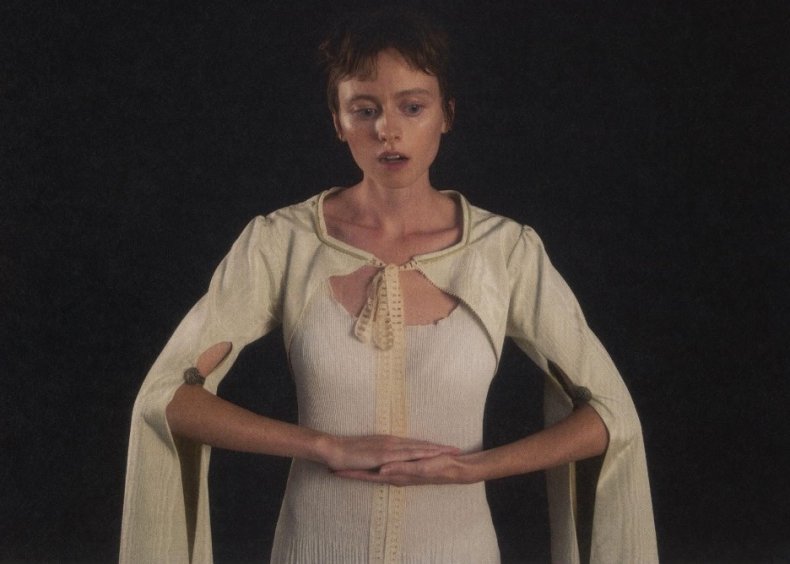 Skullcrusher has certainly garnered positive attention from fans and music critics, beginning in 2020 with their self-titled EP, later followed by another mini-album, storm in summer, Next year. Last month, Skullcrusher released her debut full-length album Calm the room via Secretly Canadian, and is currently touring North America through early December to promote her new album before heading to Europe for several dates in February.
Calm the room marks a musical evolution from Skullcrusher's previous releases while retaining Ballentine's beautiful singing voice, melodies and abstract lyrical sensibility.
"I would say it definitely goes beyond what we did in the beginning, sonically," said Ballentine, who is originally from Mount Vernon, New York. "The roots are still there. I think with this record I felt a bit more free in my songwriting, maybe less concerned with the structure and trying to think about what the song is. In general, the core of the songwriting is still very similar to what I've done. But in terms of sound and production technology, we've made it even further."
The main theme of childhood further complements the exquisite music Calm the room. For most people, childhood memories tend to evoke innocence and nostalgia. And while that's true in the case of Calm the roomthe record also conveys feelings of tension, fear and dissociation.
"It definitely feels conceptual to me," says Ballentine. "I tend to approach everything I do – especially if you're writing songs at a certain time in your life – there will often be continuity. So that's definitely what happened with this record, which focuses mostly on my childhood and specifically the connection between my childhood, my present and my artistic practice and how all of those things influenced each other."
Ballentine conceived the record in the summer of 2021, around the time she was living in Los Angeles and reflecting on her New York childhood. Recorded with musician Noah Weinman and producer Andrew Sarlo in a studio in upstate New York, Ballentine created an ethereal and translucent folk album with ambient influences and strings. She experienced tensions in the production of the dreamy song "Whatever Fits Together," the album's first single.
"It feels like a train is chugging along to me," Ballentine says of the track, "but there's also a power it's like pushing through and you can feel, like that kind of struggle takes place. It's a special review of my life and trying to think of it in this very linear way that we tell our life stories. Especially in interviews, people will ask you, "What's your point of view? What's your story?" And you have to find the words to express it in a meaningful way. I told myself that if you're really honest about certain things, it's really impossible to do that in a meaningful way."
The songs "They Quiet the Room" and "Quiet the Room" share the same lyrics but differ musically – the former is guitar-oriented and the latter features prominent piano – but they still convey a strong, haunting feeling.
"I like the idea of ​​a song having many different lives and iterations, and the fact that a song can constantly be reborn as something completely different. This particular choice marks only the beginning of the album. The piano version, which I wrote first and then put aside for a while. And then, when I knew I was making an album, I wanted to go over it again on a different instrument. So I picked up the guitar and instead of going back to the piano, I decided to combine those words with different chords."
The album's newest single, the atmospheric "It's Like a Secret," is a track that Ballentine feels is very important – it was inspired by the songwriting process.
"As I was working on the album and paying attention to how I was feeling and what was going on in my life at that time, and realizing that my creative practice is very connected to my emotional difficulties. It's kind of an odd relationship between that [process of writing a song and my day-to-day struggles as a person]and how that might get through to an outside observer."
Calm the room covers a very heavy and emotional terrain, and Ballentine finds that writing and recording this music serves as a form of catharsis.
"Sometimes it really feels like I have to do it. It's not even like I decided to make music. It feels like I have to do it, almost like it's something that sticks to my body because it provides that necessary release and way of communicating things that are sometimes hard to put into words or that sometimes aren't doesn't want to put into words and it gives you the opportunity to let go of many things."
Ballentine grew up musically, having first played the piano and later the guitar; Artists she listened to included Nick Drake, The Beatles, Joni Mitchell, Coldplay and Radiohead. But she didn't really consider music as a career as she moved to Los Angeles to study art and work in a gallery until she decided to quit that job.
"I didn't want to be a salesman and that wasn't comfortable for me. And then music was always something I liked to do. I started meeting more people in LA who were making music and making it work. I decided to get a part time job and give it a try. It kind of made sense at that point."
While their sound isn't specifically hard rock, Skullcrusher's music packs a punch, which is why Ballentine's nickname might make sense.
"Generally it was about contextualizing what might otherwise be perceived as very soft, sweet, calm music with something more aggressive, because there's so much intensity in me as a person and in this music, even when it's calm."
https://www.newsweek.com/skullcrusher-packs-emotional-punch-her-quiet-new-album-1757812 Skullcrusher packs an emotional punch with their new "Quiet" album