SNL Sketch Teases Complete Zero Hearings on Jan. 6, Trump Subpoena
Saturday night live opens this weekend with a parody of the committee's final hearing on January 6th.
The Cold Open also parodied recently released footage of House Speaker Nancy Pelosi and Senate Majority Leader Chuck Schumer reacting to the attack on the US Capitol.
"January 6 was one of the most dramatic and momentous moments in our nation's history. To fight back, we assembled a team of monotonous nerds to do a powerpoint presentation," said committee chairman Bennie Thompson, played by Kenan Thompson.
"We've been investigating this horrific attack for more than a year, but today's session will be a little different. We're going to sum up our findings, have a history-making vote, and then and only then do we all come down to a little treat."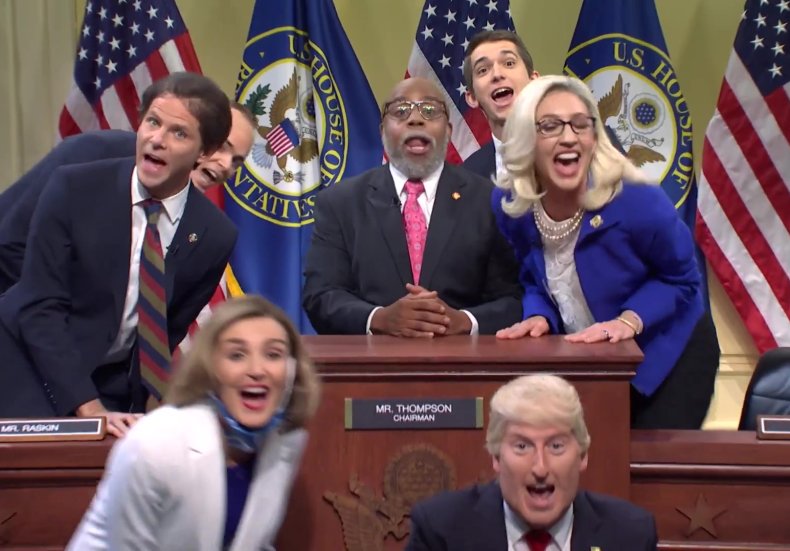 Rep. Liz Cheney, played by Heidi Gardner, then spoke about how the committee has spent the past few months bringing its case to all Americans, "whether you're a Republican who's not looking or a Democrat who's nodding so hard, your head will fall out."
She continued: "One person is responsible for this uprising, [former president] Donald Trump, and one person will face the consequences, me."
Mikey Day's representative, Jamie Raskin, then read excerpts from alt-right forums leading up to the January 6, 2021 attack.
The FBI "searched all the right message boards and found disturbing comments like, 'Who wants to burn down DC?' "Anyone have room in their car for me, 10 guns and 30 snakes?" "Where do we park?" "Is there a shuttle from La Quinta Inn to Coup?" and "Am I wrong in Washington? I see Space Needle."
"Once again, President Trump hasn't lifted a finger and while these hooligans were looting our beloved capital, real leaders like Nancy Pelosi and Chuck Schumer have been stashed away in a Senate hideout to save the country."
The sketch then cuts to Pelosi, played by Chloe Fineman, on the phone asking when voting to confirm the 2020 election could resume, while Schumer, played by Sarah Sherman, was busy getting his DoorDash order to arrive after he had changed the place of delivery due to "some unfortunate betrayal".
Fineman's Pelosi then tells former vice present Mike Pence what she would do if Trump came to the Capitol.
"Let me tell you, if Trump comes here now, I'm going to punch him in the face, right in the face, and I'm going to jail, but I'm going to be happy," she said.
The committee then played a clip of Trump, played by James Austin Johnson, on a phone call the day before Election Day in 2020.
"You know the votes don't matter?" he said. "I've always said that the voices don't matter at all. Because what is a voice anyway? It's just a piece of paper that you fold up and put in a hat, a guy shakes it around."
Johnson's Trump rambled on before asking, "Is Mike Pence dead yet?"
The sketch ended with members of the committee having voted to summon Trump to testify and sharing their confidence he will comply.
"Trump comes 100 percent and this time he's going to be held accountable," said Rep. Adam Kinzinger, played by Andrew Dismukes.
"Sure, he got away with a lot of stuff in the 70's, 80's, 90's, early 2000's, 2010's and early 2020's. But that ends with us now."
Thompson concluded, "Okay, well, I can already see that this is a complete zero. I want to thank my colleagues for wasting their summers, and in some cases their careers, to serve on this committee."
https://www.newsweek.com/snl-skit-teases-jan6-january6-hearings-donald-trump-pelosi-video-subpoena-1752212 SNL Sketch Teases Complete Zero Hearings on Jan. 6, Trump Subpoena