Snorkeler is attacked by crocodile and rips his jaw off his head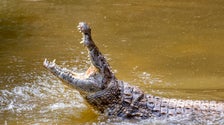 A man snorkeling in Australia was attacked by a saltwater crocodile and narrowly escaped by detaching its jaws from its head.
Marcus McGowan, 51, was snorkeling with his wife and a group of friends at a Queensland resort off the coast of Cape York on Saturday when he suddenly felt something was "grabbing my head".
McGowan, who initially "thought it was a shark," managed to dislodge the reptile's jaws from its head during the terrifying standoff.
He said the crocodile tried to turn back to attack him again, but he was able to deflect it with his right hand, which was subsequently bitten.
"I was able to escape the crocodile's grasp once more and swim to the safety of the boat that came after they heard our cries for help," McGowan said, adding that the hostile crocodile was likely young and about eight to ten feet long.
McGowan was taken to Haggerstone Island, about 45 minutes away, where a friend gave him antibiotics to prevent infection from the bite wounds.
He was later taken to a local hospital for the further treatment of cuts on the scalp and puncture wounds on the head and hands.
McGowan, a surfer and diver, admitted knowing he could face danger in the water.
"When you enter the marine environment, you are entering areas that belong to potentially dangerous animals like sharks and crocodiles," he added. "I was just in the wrong place at the wrong time."
The Queensland government did not immediately respond to Huffpost's request for additional information about the attack.