Snow Cone, the mother of the entangled right whale, is now emaciated and covered in lice
Snow Cone, the endangered right whale mother caught in fishing gear, was discovered emaciated and covered in lice
The whale was first spotted by marine biologists in March 2021, entangled in massive amounts of fishing gear. The long fishing line is lodged under their jaw, likely preventing them from eating and hiking properly. Rescuers managed to remove hundreds of meters of rope to increase their chances of survival, but freeing them completely has proved difficult.
She made headlines in December 2021 when she was spotted with a newborn "miracle" calf. Because of the severity of her entanglement, the researchers thought it incredibly unlikely that she would be able to give birth, let alone breastfeed.
The critically endangered whale was spotted by scientists at the New England Aquarium south of Nantucket, Massachusetts on September 22.
Snow Cone was carrying even more fishing gear this time while still carrying the previous ropes.
Right whales are threatened with extinction. Fewer than 350 individuals remain, according to NOAA, and there may be fewer than 100 breeding females. One of the biggest threats to the species is getting caught in commercial fishing gear.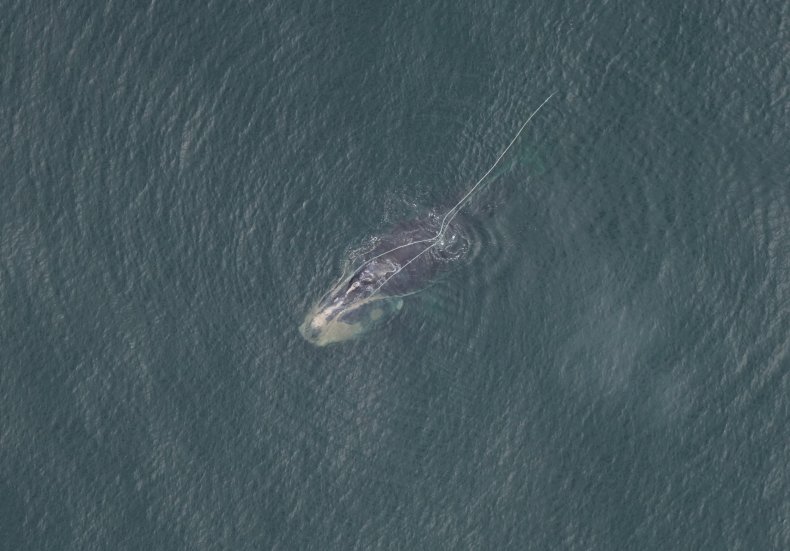 Researchers were shocked by the decline in the whale's health, the aquarium said in a news release. The whale's health has deteriorated dramatically since it was last seen in July 2022.
Apparently the fishing line drained her and prevented her from swimming efficiently. She was spotted with orange cyamids, also known as whale lice. According to the New England Aquarium, this is an indicator that their swimming speed is slowing down. She was also riddled with markings, suggesting the fishing gear was causing serious injury.
Research assistant Sharon Hsu, who was part of the team documenting the sighting, said 18 months ago there was hope of rescuing the whale, but after this latest sighting there was "no hope of her survival."
"She moved so slowly, she couldn't dive, she just sank. She's suffering," Hsu said.
After the sighting, the scientists contacted the Center for Coastal Studies to begin a disentanglement effort, but due to the conditions and the distance she was swimming, they were unable to take immediate action.
Heather Pettis, a researcher at the aquarium's Anderson Cabot Center for Ocean Life, said in the release, "We are watching one of the few remaining reproductive female North Atlantic right whales slowly dying away.
"The deterioration and suffering she has experienced is inexcusable. While Snow Cone is terrifying in and of itself, she is not alone in her experience. "More than 86% of right whales have experienced at least one, and some individuals as many as eight, entanglements, and the severity of these events has increased over time," Pettis said to prevent these events throughout their range."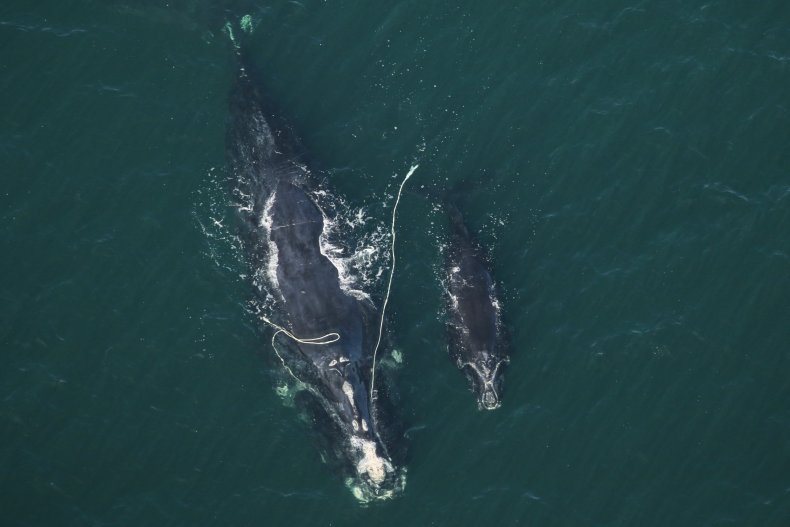 https://www.newsweek.com/snow-cone-entangled-right-whale-mom-emaciated-covered-lice-1745611 Snow Cone, the mother of the entangled right whale, is now emaciated and covered in lice