Soldier-violinist keeps gloom at bay in Ukraine bunker
A professional musician serving in the Ukrainian army has told how he cheers up comrades by playing tunes to them between battles in a bunker in Odessa.
Moysey Bondarenko, 23 – who serves in Ukraine's armed forces – said he learned music as a boy in his native village in Ukraine's Dnipropetrovsk region.
A heartbreaking video of Bondarenko playing his violin in a bunker has gone viral on social media.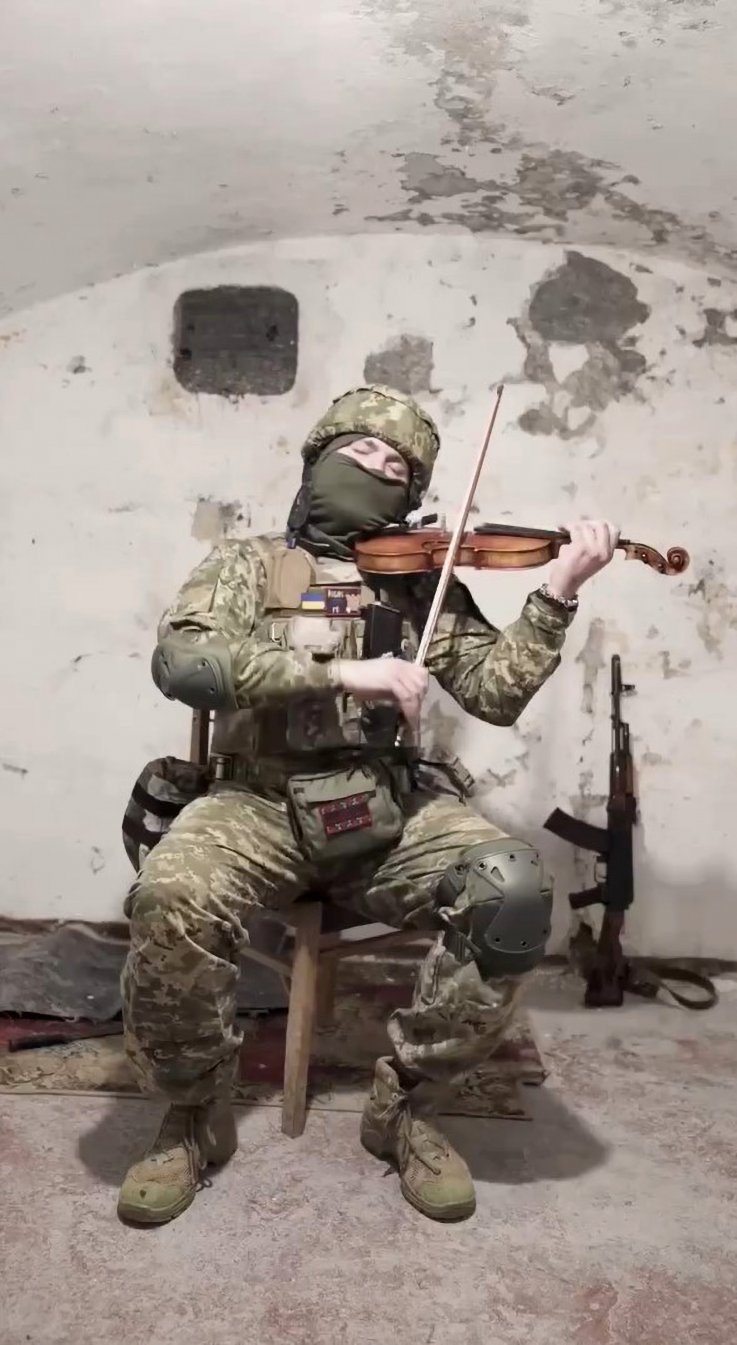 Ukrainian soldier Moysey Bondarenko plays the violin in an air raid shelter in Odessa, Ukraine.
@paranoizes/Zenger
He told Zenger News: "In the bunker, I play for the boys to distract them. Someone sings, someone here plays the guitar. We try to persevere and support each other.
"We'd love for this to end so we could go have a beer, watch football or just do something fun and relaxing."
Bondarenko explained: "Most of my neighbors in the village were gypsies, they are insanely musical people, they spend all the time playing guitars and singing songs.
"I finished school when I was 17, went to Kyiv and enrolled at the Kiev National University of Culture and Arts. Before the war I lived in Kyiv and was in an orchestra. We were supposed to give a concert in Mykolaiv when war broke out.
"I am in contact with my mother in Dnipropetrovsk where military activities are nearby, but she remains very positive.
"I have three older brothers. The eldest went to Slovakia with his wife and child, but he will definitely return to Ukraine. My other brothers are with my mother in Dnepropetrovsk.
"They all have cars and can leave the area if they have to, but everything is fine at the moment.
"I volunteered for military service, my eldest brother in Slovakia had previously been in the army for two years and is unfit for health reasons. My other brothers support the cause, but I'm the only one in the army."
Ukrainian soldier Moysey (right) laying a violin at the air raid shelter in Odessa, Ukraine, pictured with his mother Elena (left). (@aranoizes/Zenger)
Bondarenko told Zenger News: "I was inspired to enlist in the army by Alexander Yarmak, a Ukrainian musician and family man who, in the first few days, volunteered for the war without hesitation.
"It's a historic moment, it's the most useful thing I can do, the coolest feeling is when you feel fulfilled and needed, yes I've never held a machine gun in my hands and it's very scary but when you understand that, you'll be fine.
"I care about my country, I want to live here, it's important to prove yourself and show courage in moments like this, here I've finally found peace. At first it was scary for a few days, of course I've never been at war, but now I feel calm inside because that's what our country needs right now – defenders."
He added: "We sleep in the bunker but we don't get much rest because of the bombs.
"We are always ready. I'm very inspired by Ukraine and its people. I'm not married, but there are people here who have families, children, and I don't know how they do it, everyone is an example to follow .
"We all went about our business on February 23 and the next day we knew we had to drop everything, send our families away and go to war.
"When the war is over, I want to play the violin wherever I can. I would like to give as many concerts as possible. I love seeing people's emotions when I play."
Bondarenko said: "In my viral Instagram video of me playing the violin in the bunker, I played Arcade by Duncan Laurence, the winner of the Eurovision Song Contest 2019.
"It's a very beautiful song. There is also a video where I play a song by Belgian artist Stromae, which is also very cool.
"In the bunker I play for the boys to distract them. Someone is singing, someone is playing the guitar here.
He added: "We'd love for this to end so we could go out for a beer, watch football or just do something fun and relaxing."
This story was provided to Newsweek by Zenger News.
https://www.newsweek.com/soldier-violinist-staves-off-gloom-ukraine-bunker-1707899 Soldier-violinist keeps gloom at bay in Ukraine bunker