Spouse supports for asking sick wife to suffer more quietly: 'Misery Loves Company'
Internet commenters showed support for a spouse whose cold-stricken wife pushed them to the end of their metaphorical rope.
In a viral Reddit post published on the r/AmITeA**hole forums, Redditor u/Professional-Card607 (aka Original Poster or OP) said they did everything they could to help their wife, a case overcome by overload but were still met with venom and hostility.
Captioned: "[Am I the a**hole] for telling my wife to suffer a little more quietly?" The post received more than 4,200 upvotes in the last day.
"My wife has been ill for a little over a week," OP began. "I took care of her and all the household chores to help her."
OP went on to explain that they cooked, cleaned, and took the couple's children to and from the sports practices, saying they don't expect special treatment as a result and that they're happy to take on the extra responsibility.
But after countless foot massages and days of smiling service, OP said they couldn't help but wonder if their wife was doing something to help herself.
"When she gets sick, she walks around constantly moaning, constantly saying 'I don't feel well', speaking in a weak voice unless she really wants something," the OP wrote. "I talk all day.
"Usually when they [moans] or says 'I'm not feeling well,' I reply with 'I understand you're not feeling well, what can I do or how can I make you feel better?'" OP continued.[She'll] Just snap and say nothing, I just don't feel good.
"Finally today I just couldn't handle it anymore and asked her if she couldn't suffer a little more quietly," OP added. "She called me ruthless [a**hole, but] I just wanted to sit quietly for a few minutes at the end of the day after a week of taking care of her."
As more spouses and parents act as nurses to partners, children and parents battling COVID-19 over the past two and a half years, the common cold and other less serious illnesses still exist and still require proven methods to ensure a full recovery .
Along with over-the-counter medications and home remedies, sometimes the best medicine for a case of a cold is as simple as extra care from a spouse or other roommate.
Very Well Mind, a leading online resource for mental health information, recommends that those caring for an ill spouse provide plenty of fluids and supplemental meals, change linens regularly, and get additional rest periods without the presence of screens or other distractions support financially.
It is also recommended that caretakers keep it light and try not to take negativity too personally.
"Keep your sense of humor," advises Very Well Mind. "This will pass, and there's no need to add hard feelings or mean words to your spouse's headache."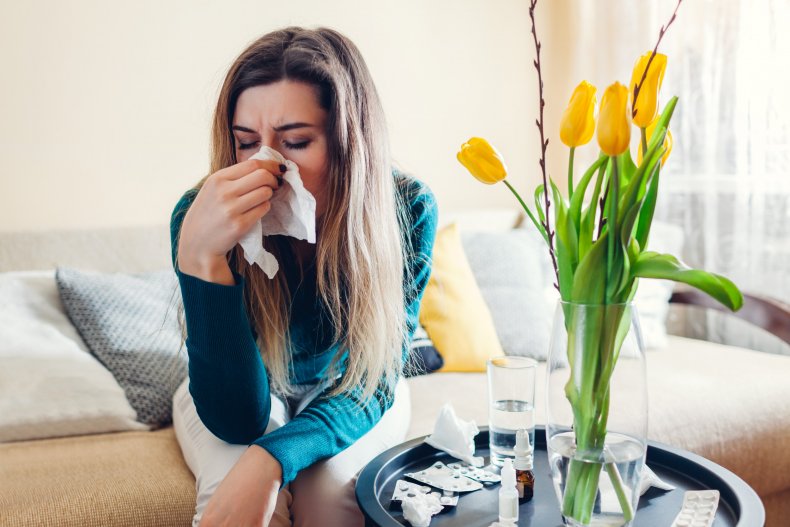 However, throughout the comments section of the viral Reddit post, Redditors more quietly defended OP's snide remark about her wife's suffering.
"It sounds like your wife has the dreaded man cold," wrote Redditor u/essssgeeee in the top comment of the post, which received more than 10,000 upvotes. "Seriously, you are [not the a**hole]."
"[Not the a**hole]" repeated Redditor u/StAlvis, receiving more than 3,000 upvotes.
Redditor u/stacity, whose comment has received almost 2,000 upvotes, offered a similar answer as well as a possible explanation for OP's household hostility.
"Do not you understand?" they questioned. "She wants you to suffer too. Misery loves company.
"Jokes aside, you do your best and if you're sick, the caretakers get … warmth for it," they added. "You're just an innocent bystander."
news week asked u/Proffesional-Card607 for a comment.
https://www.newsweek.com/spouse-backed-asking-ill-wife-suffer-quieter-misery-loves-company-1739609 Spouse supports for asking sick wife to suffer more quietly: 'Misery Loves Company'