Starbucks Pumpkin Spice Latte is back, but here's how to make it at home
Fall is fast approaching, bringing with it the prospect of colder temperatures, falling leaves and, for coffee drinkers, the return of seasonal favorite Pumpkin Spice Latte.
First introduced by Starbucks in 2003 to mark the start of the fall season, the latte blends familiar ingredients like freshly frothed milk and coffee with warm seasonal spices like cinnamon, nutmeg, ginger and clove, and a distinctive pumpkin flavor.
In the almost two decades that followed, the Pumpkin Spice Latte has become a true phenomenon. A study conducted by AdAge in 2021 estimates that Starbucks has sold over 500 million since its launch.
However, as many consumers seek to tighten their belts during these trying economic times, store-bought pumpkin spice lattes can increasingly offer something of a luxury.
Especially since, according to CNN Business, prices are rising. The news outlet reported that a large size of the popular drink could cost you anywhere from $5.45 to $5.95, depending on location.
Starbucks has reportedly increased prices in line with inflation, with CBS News reporting that a Venti-sized brewed coffee that cost $2.45 in 2021 had risen to $2.95 in February 2022.
As many families try to cut costs, many may be considering reducing their pumpkin spice solution and other luxury items for the fall season.
But website jackandbeyond.com has found a possible alternative — a recipe that shows how to make the popular treat at home for less than half the price of a Starbucks version.
"Making the Pumpkin Spice Latte at home is an easy activity you can do as a family to ensure you save money on everyday Starbucks trips and instead have the opportunity to perfect your own taste," Sophia Zimmer, Expert at jackandbeyond. com explained.
"It's also worth considering the positive environmental impact that making your own could have as you reduce food waste by using things you probably already have in your cupboard."
Here's everything you need to know:
The Total Cost of a Homemade Pumpkin Spice Latte
article
Price per 0.4 cups (cents)
Price Per Serving (Large Pumpkin Spice Latte)
pumpkin puree
2.24
$0.064
Cinammon
28.33
$0.453
Ginger
25.97
$0.208
cloves
24.79
$0.099
nutmeg
18.89
$0.038
Coffee
17.71
$0.124
sugar
0.01
$0,000
vanilla extract
37.77
$0.536
milk
0.01
$0.002
In total
$1.53
The total cost of homemade Pumpkin Spice Latte is $1.53 compared to the Starbucks equivalent which cost $4.25 at the time of writing.
How to make a Pumpkin Spice Latte at home for less than half the price
1. Prepare some pumpkin puree
"The first step is to prepare the pumpkin puree. Start by slicing, deseeding, and then deveining your squash."
"Bake the squash in a preheated oven at 374 degrees F (190 C) for 45 minutes. Blend in a food processor until smooth."
"If you're short on time, maybe try a pre-made pumpkin puree that speeds up the process — especially if you're in the middle of a busy week."
2. Create the perfect spice blend
"While you wait for the puree to bake, you can start making the vital spice mix that gives the latte its distinctive flavor."
"To create the perfect spice blend you will need:
4 teaspoons ground cinnamon
2 teaspoons ground ginger
1 teaspoon ground cloves
1/2 teaspoon ground nutmeg."
"It's worth noting that this recipe can be adjusted to fit most dietary needs, or if you just have cinnamon sticks you can grind them up for this recipe."
3. Heat your chosen milk
"In a pan, heat 2 cups of your choice of milk (dairy or non-dairy alternative)."
"Alternatively, you can heat and froth your milk with a milk frother or in a separate pot on your stovetop."
4. Mix together
To finish, in a heatproof glass or mug, combine 2 tablespoons of pumpkin puree and 1 shot of espresso, add 1/2 teaspoon of your spice blend and beat until smooth. For extra sweetness, add 1 tablespoon sugar or 1 tablespoon vanilla extract.
Add the warm milk and leftover froth and stir."
5. Enjoy and relax with your homemade Pumpkin Spice Latte
"For maximum fall cosiness, serve in a tall mug or, for that coffeeshop aesthetic, in a tall glass."
"Don't forget to serve with whipped cream, a sprinkling of cocoa powder, and a cinnamon stick for stirring."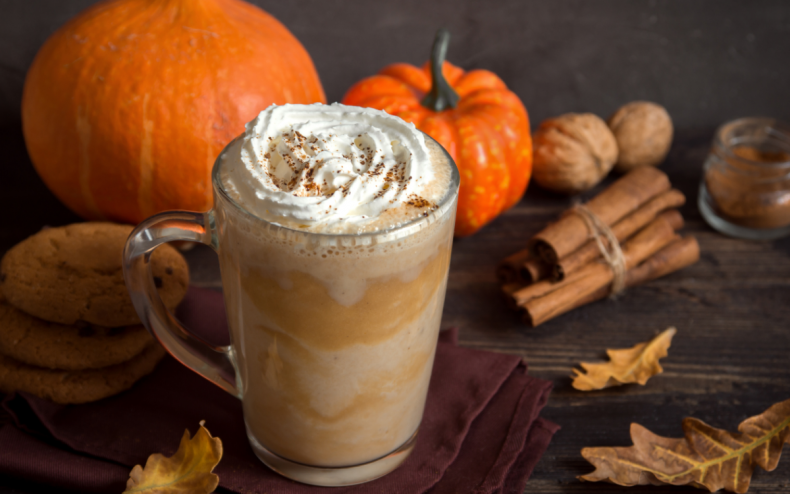 https://www.newsweek.com/starbucks-pumpkin-spice-latte-back-low-cost-recipe-1739439 Starbucks Pumpkin Spice Latte is back, but here's how to make it at home