Stardew Valley sequel Haunted Chocolatier looks better than ever in four new screenshots
Stardew Valley creator Eric Barone (ConcernedApe) never seems to stop making enchanting pixel art adventure games. While development on the spiritual successor Haunted Chocolatier was previously paused so the developer could work on Stardew's 1.6 update, Eric Barone has continued to give fans a glimpse of the upcoming game.
To reach a million followers
Thanks for 1 million followers 👍here are some pictures from Haunted Chocolatier pic.twitter.com/3PW2jMIF3R

— ConcernedApe (@ConcernedApe) October 4, 2023

To view this content, please enable targeting cookies.

Manage cookie settings

The four screenshots show in detail different environments that players will eventually find themselves in. First, there's a screenshot of what we can assume to be the player's home, which looks a little more bleak than the farmhouse where Stardew Valley players started out.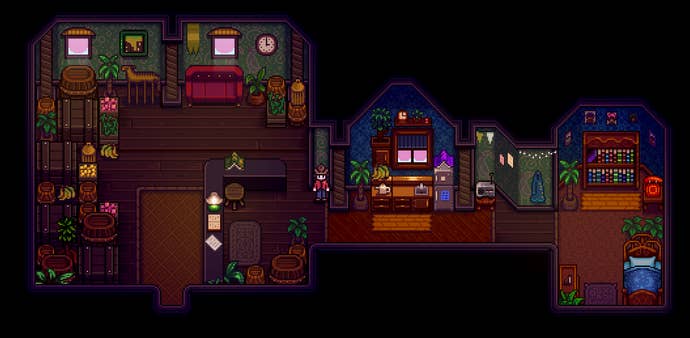 The following screenshot shows the player character in the wilderness, where trees, flora and enemies are present.
This screenshot looks most similar to Stardew Valley, but there are a few changes; The interface is different and considering the player character is fighting slimes in the wild, it looks like venturing out of our homes in Haunted Chocolatier could be dangerous.
The third screenshot shows the player standing in front of a fountain at night that looks like some kind of city center, but we can only assume that. Last but not least, the fourth screenshot shows my dream in a ConcernedApe game, and that is a library. The player is seen with shelves full of books and desks full of books. There are plants, a spooky skeleton decoration, and podiums for certain books. Now I wonder if they play a role in the story of the enchanted chocolatier…
Only time will tell, and when it comes to the release date for Haunted Chocolatier, Eric Barone hasn't revealed any news about it yet. After all, he's a solo developer working on Haunted Chocolatier and Stardew Valley's 1.6 update, so he's probably busy at the moment.
In any case, fans know that "Haunted Chocolatier" will be worth the wait. If it captures even a hint of the magic and charm of Stardew Valley, then it's sure to be a blast.
Are you excited for Haunted Chocolatier? Which of the newly released screenshots would you like to know more about? Let us know!