Stassi Schroeder fears her second baby could "disrupt" family dynamics
Vanderpump Rules alum Stassi Schroeder and her husband Beau Clark are preparing for the birth of their second child. Daughter Hartford Clark will no doubt love being a big sister.
Her new baby's nursery recently suffered water damage from Hurricane Hilary. And in July, Hartford was hospitalized because she was having trouble breathing. She suffered from high fever, phlegm in her lungs, and childhood asthma.
Stassi is a little scared
Stassi appeared on Lala Kent's podcast, Give Them Lala. Basically, she had some concerns about expanding her family. "I'm worried about that [having my second baby] will completely mess up the things I love about my life right now. I love my life right now and I love our little family," Stassi said. She added, "I love the way we approach Hartford and the way we approach things together."
The mom-to-be continued, "All I hear about having a second child is that you can't really spend time with your partner anymore because you're just separated. Everyone cares about each child and I'm mostly worried about what that will do and how a second child will disrupt our flow." It's certainly normal to have those worries.
what's in a name
The author also shared a glimpse of her new baby boy's name. "So many people are dangerously close [when they guess] because I [previously] said I was inspired by a street in New York and that street was actually my first choice for baby names. So the name everyone guesses was my first choice before I came up with this other one," Stassi said. "But this other one – which resembles the street name – has an Italian connection. That makes it very special."
Beau and Stassi finally tied the knot in Rome, Italy for their dream wedding. They had previously married in a simple backyard ceremony in 2020.
TELL US – SHOULD STASSI BE CONCERNED ABOUT THE DYNAMIC CHANGE IN HER FAMILY? What name do you think STASSI chose for their son?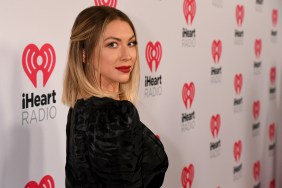 Stassi reveals Sandoval is raking in money for Season 11.
Stassi claims the production of Pump Rules protected the men.
Stassi is not a fan.