Stephen Colbert slams Tucker Carlson by citing 1 major difference between them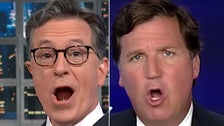 Stephen Colbert returned from his week off and couldn't wait to share the biggest news he's had to break during his absence.
"We haven't been on the air for a week. Do you know who else has?" Colbert asked Monday night. "Tucker Carlson!"
The audience cheered wildly.
"The difference is that I get to get back in," said Colbert.
"Fox News fired Tucker Carlson, I can't believe I'm finally getting to say that on TV," Colbert said. "I've been keeping this for a week. I feel like I just had the best pee of my life."
Fox News gave no reason for Carlson's split, but Colbert noted a report that the right-wing network didn't like his "thinly veiled racism."
"Thinly veiled?" he said in disbelief. "No wonder they were mad. Fox likes her racism to be thick cut."
Colbert considered some of the other theories behind the Fox-Carlson divorce in his "Late Show" monologue Monday night: