Submit questions for the KVUE Austin mayoral debate on October 18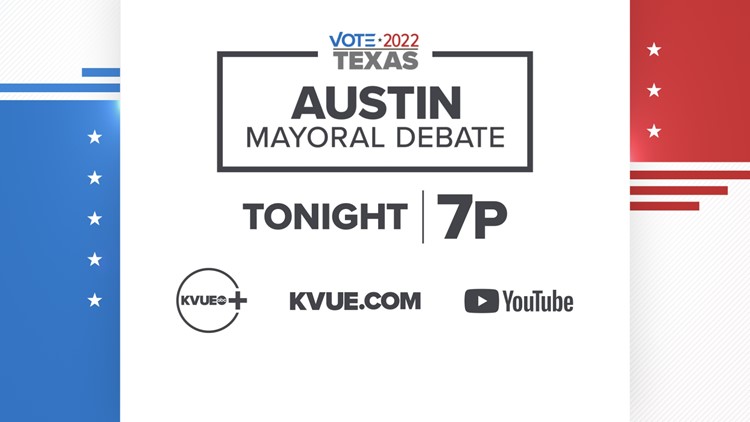 AUSTIN, Texas — Want to make your voice heard at KVUE's mayoral debate in Austin next week?
On Tuesday, October 18, 7 p.m., KVUE – with sales partners KUT and the Austin American statesman – hosts a debate between all six candidates running for mayor of Austin.
Before the debate, we ask that you submit the questions to which you would most like to hear the candidates' answers. to ask a question click here or below. You will be asked to provide your first name, the Austin neighborhood where you live and your question.
KVUE cannot guarantee that your question will be asked during the debate, but we will try to include as many viewer questions as possible.
RELATED: KVUE Hosts Austin Mayoral Debate
KVUE's Managing Editor of Political Content Ashley Goudeau will serve as the main moderator of the October 18 debate. The full debate will be streamed on KVUE.com, our live stream KVUE YouTube page and on KVUE+, available on Amazon Fire TV and Roku.
The deadline for registering to vote in Texas is October 11. Early voting runs from October 24th to November 4th. Election day is Tuesday November 8th.
For more information you need to know before you head to the polls in this election, see our KVUE Voter's Guide.
Britny Eubank on social media: Twitter
ACL brings thousands of people to Austin, but one downtown business loses most of its customers
Austin doctor shares Texas State Fair foods to eat and avoid
Mr. Gatti's: 53 years of prestige for pizza pies
Paramore brings headlining energy to their ACL Fest set
https://www.kvue.com/article/news/politics/vote-texas/austin-mayor-debate-kvue-questions-survey/269-8f50d41c-0810-45d1-8770-02efa1cbc001 Submit questions for the KVUE Austin mayoral debate on October 18