"'Succession' Creator Hints at Answer to Logan Roy Mystery"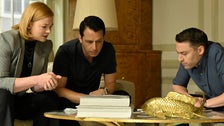 It seems that Kendall Roy really was Logan's #1 boy.
Jesse Armstrong seems to have solved one final mystery about "Succession"." – but some fans are unwilling to follow his line.
The creator of the Emmy-winning HBO drama was quizzed at a Financial Times event in London on Saturday about a line written by his character Logan Roy (Brian Cox) in a non-legal document about his death wishes.
In Episode 4 of the show's fourth and final season, titled "Honeymoon States," Logan's family and friends gather at his home to mourn his death. During the wake, Frank (Peter Friedman), Logan's estate executor, finds a "rather disturbing piece of paper" in a private safe. The typed and undated document that Logan Roy wrote before his death and later commented on seems to indicate that he wanted his son Kendall Roy (Jeremy Strong) to succeed his media empire Waystar Royco.
This intention is expressed by the fact that Logan appears to highlight Kendall's name in the document. But when Kendall's sister Shiv (Sarah Snook) looks at the paper, she points out that while the first half of Kendall's name looks underlined, the last part of his name appears to be crossed out. The intent of the line was then discussed by the characters, and later by fans of the show online.
But Armstrong seemed to have settled that debate. In a video posted by journalist Cassam Looch of Armstrong's speech on Saturday, Armstrong offers a response — although it's about as coy as Logan's etched sentence.
"If you crossed out, you wouldn't start under it, would you?" Armstrong answered the crowd's question. After saying this, he puts his finger on his temple and makes the gesture "think about it". When finally someone in the crowd yells "Underline!" Armstrong bows.
But some fans don't entirely believe that explanation — even though Armstrong is the person who wrote the script.