Super Mario Bros. Wonder looks to be the 2D Mario I've wanted for 20 years – PREVIEW
I have to be honest – most of New Super Mario Bros. kind of passed me by. I really enjoyed the original on the DS back in the day, but as the series progressed my enthusiasm for 2D Mario waned. But in a quick hands-on exercise, Super Mario Bros. Wonder restored that excitement and reminded me why I loved 2D Mario so much.

To view this content, please enable targeting cookies.

Manage cookie settings

In many ways, Super Mario Bros. Wonder's transformation is best represented by its art style. The NSMB games that have dominated 2D Mario for years use an art style established by 1996's Super Mario 64; a chunky, smooth-looking 3D Mario based on the CG model used for the cover and promotional art for that game. In fact, Mario has looked like this for decades – in Mario Party, in Mario Kart, and in 2D and 3D games. There's an established aesthetic – and for my money it's become pretty stale.
So it's no surprise that I was excited to see Nintendo bring some slightly different looks to the adventurous plumber and his friends. The best of these is a throwback, the art style depicted in Wonder. The characters just seem a bit more characterful and more clearly defined. This new look is clearly inspired by the art of Yoichi Kotabe, the former Nintendo employee who reworked Miyamoto's concept art for the cast of Mario and drew many of the iconic character art and game covers for the NES and SNES titles.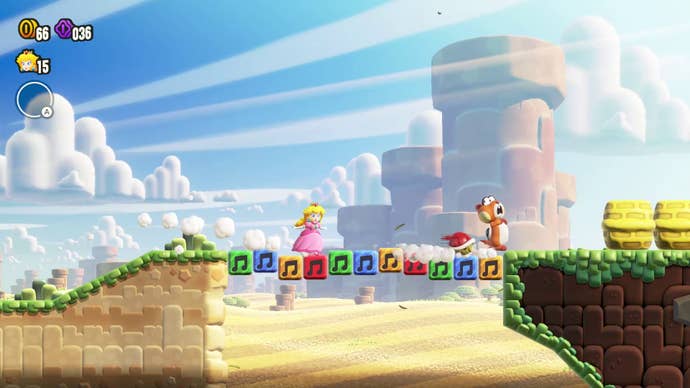 The result is a high-resolution Mario game that looks the way I imagined the characters looked "real" when they were still pixel art. And this approach seems to be permeating the entire game.
What I basically mean by that is that it feels more like a sequel to Super Mario World than pretty much anything else that's come out since. It's hard to put my finger on it, especially given what parts of the game Nintendo is currently letting us talk about. But honestly it's more of a mood, a feeling that brings it closer to Super Mario World.
Of course, this does not mean that the lessons of NSMB do not remain. Wonder brings back co-op mode with a range of characters to play and there are a handful of new gimmicks that should really set Wonder apart.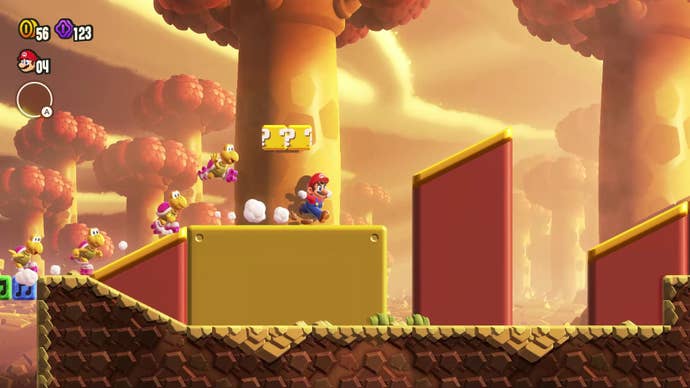 What's interesting is the "badge" system, which essentially allows you to select and equip a single power-up at the start of a level. These are basically small perks that, for example, give you a second chance at life when you get into a difficult situation, or give you more practical bonuses like an improved wall jump. There are also individual levels in the game that are "Badge Challenges". These smaller tiers essentially take away everything but one of these badge skills, and both are aimed at teaching you how to use a badge's unique advantage and testing your mastery of those skills.
The most interesting change is the game's title feature; the miraculous seeds, which, when grasped, trigger "miraculous" effects. The trailers portrayed this pretty well – stages can distort and change, they can transport you to slightly different places – all sorts of things. Honestly, the Wonder Seeds are cool, but they don't blow me away either. That being said, they're also the best kind of gimmick – harmless and not the kind of mechanic that will get in the way of the core Mario action. In fact, it may well end up improving the overall experience. However, in terms of gameplay, the badge abilities actually seem to be a bigger deal than the Wonder Seeds.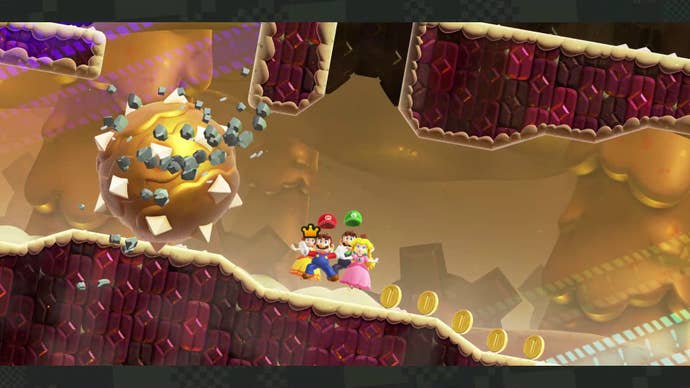 However, I keep coming back to this art style and what it represents. Especially in the context of a game that also wants to use the "golden age" of 2D Mario as material. Recurring enemies, level design references, and just an overall feel that really "sells" Marvel as a true sequel to Mario World. Finally, all these years later. Although it still features the 3D graphics, in many ways it feels like Mario's nostalgic Sonic Mania moment – and that's the most exciting thing of all.