Supporting Hamas is a global disgrace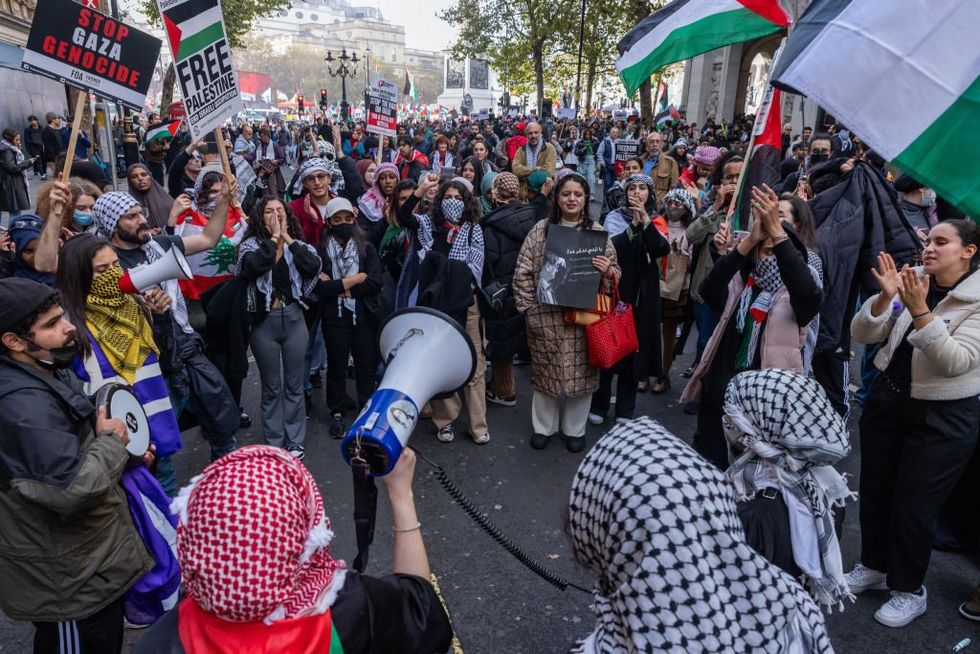 Where is the outrage? After Islamic terrorists massacred Israeli civilians, raped and kidnapped women, and killed and kidnapped children, we are witnessing mass celebration of this unprecedented brutality. The collective shame is virtually unfathomable.
How cruel were the events of October 7th? Read the report from an Israeli official on the scene:
Father and mother are bound to each other. They removed one of the father's eyes. In front of them are two children with their eyes cut out. The mother had one of her breasts cut off. The seven-year-old boy had some of his fingers removed. They took the girl's foot off. They placed a table with food in the middle and ate. Can you understand this? It's just incredible what they've done.
Hamas has proven itself to be an enemy of civilization.
Townhall revealed the terrorists' disturbing response:
Following Hamas' heinous and indescribably evil terrorist attack on Israel on October 7, which resulted in the deaths of 1,400 innocent Israelis, protests erupted across America and around the world, with pro-Hamas demonstrators siding with them of the terrorists and excused the atrocities or denied them entirely.
British commentator Piers Morgan described it as follows:
I was in London on October 7th. Thousands of people gathered near the Israeli embassy. I mistakenly thought they were there to support the people of Israel. They were there celebrating what Hamas did to innocent Israeli civilians. Within a few hours there were thousands. In New York. In London. In Sydney. People said, "Gas the Jews." These are supposedly civilized democratic societies – the instinctive reaction of the people of these countries was to celebrate what had happened. This is a frightening thing.
Radio host Michael Brown reported on London's official response to the pro-Hamas crowd:
London's Metropolitan Police have ruled that saying "From the river to the sea…" is not a criminal offence. Given the trauma this must surely cause for the Jewish residents of the UK, particularly given the huge crowds of protesters numbering up to 100,000, this is quite disheartening. It's also quite ironic considering that British police have arrested street preachers for making LGBTQ+-identified people uncomfortable because of their religious beliefs. But a public call for the destruction of Israel is not a crime.
"Hamas supporters in the UK should be treated in the same way as ISIS supporters," argued Douglas Murray, author of "The War on the West." He continued:
If you stand in the UK with a Hamas flag, you should not be allowed to be free in the UK. You should be arrested, your citizenship revoked, your passport confiscated, you should be deported. You should be sent to Gaza and try your luck there – but you should not be given the right to insult and mock Jews after Jews die. It is intolerable and we should not tolerate it.
Historian and classicist Victor Davis Hanson agreed:
We in the United States must say: Every time you stand up and support Hamas, you are supporting murder. They are no different than the people who go over and slaughter civilians.
Instead of being met with condemnation and sanction, support for Hamas has spread like a rapidly metastasizing cancer across the United States. In Richmond, California, for example, the city council passed a resolution accusing Israel of ethnic cleansing. Shortly beforehand, hundreds of pro-Hamas demonstrators stormed the Cannon House office building in Washington, DC
"You're cheering on a terrorist organization," Lara Trump said. "An organization that beheads babies, that murders Holocaust survivors, that holds people hostage. "Will they receive the same treatment as the January 6 protesters?" she asked. "Not likely," she told Newsmax.
"On college campuses and even at some high schools," Townhall reports, "bright students are chanting, 'From the river to the sea, Palestine will be free.' A call for the genocide of the Jewish people and the destruction of the only Jewish state." A letter signed by 33 Harvard student groups supported the Hamas attack and blamed Israel for the incident. The media neglected to mention that the Harvard groups are almost exclusively Muslim or Arab organizations.
According to Jihad Watch, 57% of American Muslims agree that Hamas's atrocities were justified. "Immigration has imported terrorism and its support into the United States," Jihad Watch reports. "Islamic terrorism has become endemic and indigenous to America. How long until we have our own 'Hamas' in America?"
Jesse Watters reported on Fox News that the Democratic Party has a problem with anti-Semitism and radical Palestinian activists. "Democrats are notorious for their anti-terrorist anti-Semitism," Townhall says. "They would rather side with Hamas."
Former House Speaker Newt Gingrich agreed. "The Democratic caucus is afraid to stand up to terrorists," he told Fox Business host Larry Kudlow. The Democrats are "against Israel's survival."
Gingrich pointed to the few House members, particularly Reps. Alexandria Ocasio-Cortez (DN.Y.), Rashida Tlaib (D-Mich.) and Ilhan Omar (D-Minn.), who refuse to agree to the killing of babies condemn .
"None of them condemned the rape of women. None of them condemned the taking of grandmothers hostage. There is no doubt in my mind that AOC, Ilhan, Tlaib and their friends are simply pro-terrorist members," Gingrich said. "On the left wing of the Democratic Party, anti-Semitism and the desire to destroy Israel are now a dominant, real factor."
The media has joined the Democrats in taking a hostile stance toward Israeli self-defense, deliberately portraying the Palestinians as innocent victims.
During an interview with former Israeli Defense Minister Naftali Bennett, CNN anchor Becky Anderson argued that Israel violated international law by targeting civilian sites in Gaza.
"Maybe you're suggesting that we just sit back and let them shoot missiles at us and not shoot back because they hide the missiles behind women and children," Bennett replied. "Would you do that, Becky? If your family was under attack, would you suggest that your government not defend you because it is hiding the weapons and missiles behind civilians? Every country is expected to defend its citizens and you, Becky, should not be talking about us. It is them, it is Hamas, it is deplorable what they are doing and using their own people as human shields."
Townhall summed up the current situation: "We will not stop shining a light on this moral decay that is spreading across our great country. We will expose these Hamas supporters and never stop supporting the right of the nation of Israel to defend its people from the savages of the 7th century and their barbarism."