Tamra Judge slams Shannon Beador and John Janssen's relationship
When Bravo reaches the goal Tamra Judge Since the task was to make sure the pot was stirred, they achieved that goal. However, some fans weren't too happy with that goal. Still, "Real Housewives of Orange County" oozes drama, if artificial at times.
Tamra seemed to have made it her mission at RHOC to take care of everyone's relationship, and Shannon Beador was not exempt. Of course, maybe Shannon needed a nudge in their relationship John Janssen.
Still, she wasn't at all happy when she found out her relationship had become a contentious issue among her co-stars. And as with many riffs, the argument pointed back to Tamra. The two talked about it, and Tamra had more to say about Shannon than she said to her face.
The "red flag" Tamra saw in Shannon
In an interview with Bravo Regarding Episode 12, Tamra shared her thoughts on the relationship. "If Shannon and John don't talk about getting married, that's a big red flag," she said. "They were together [for] three years and at her age no talk of marriage? It doesn't sound right." That's quite a regressive take on Tamra. People can marry when and when they want.
That's not to say Shannon and John didn't have other issues, though. In a moment of admirable vulnerability, Shannon told Tamra, "He's an avoidant like I'm a communicator. He doesn't want to talk, and you know we've never traveled, just him and me without work. And that's something that bothered me. And it's like part of me is like, 'Is he really in it?'"
Still, Tamra's only question was whether or not Shannon believed John was afraid of marriage. Shannon said: "We don't talk about it. These are issues that John and I need to sort out, and it's none of Heather Dubrow's, Emily Simpson's or Gina Kirschenheiter's business. And their opinion means nothing to me."
Real Housewives of Orange County season 17 continues Wednesdays at 8/7 p.m. on Bravo.
TELL US – WHAT IS THE BIGGEST red flag you've seen about the couple's relationship? What do you think of Tamra's judgments?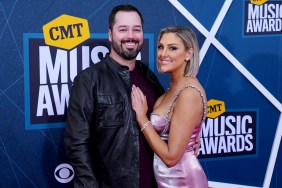 The girl has patience.
You have a friend.
That happened this week!