Target's faux foliage is the secret to my green home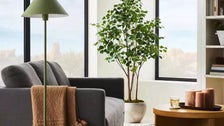 After years of denial, leaving a trail of dried-out snake plants, wilted rubber trees, and root-rotted pothos plants, I've finally come to terms with my inability to keep a plant alive. But what I am not An interior without foliage is fine – that's why I used sprouts of the artificial variety.
Whether you're an admittedly black thumb like me or just want to cross regular watering off your to-do list, Target is a great place to stock up on eternal greenery. Read on to learn about the top-rated ways to add some "life" to your home.
HuffPost receives compensation from one or more merchants on this site and may also receive a commission for purchases made through links. Each item is independently curated by the HuffPost Shopping team. Price and availability subject to change.