Teen tried to rob wheelchair-bound Texas veteran and instead suffered multiple gunshot wounds, police say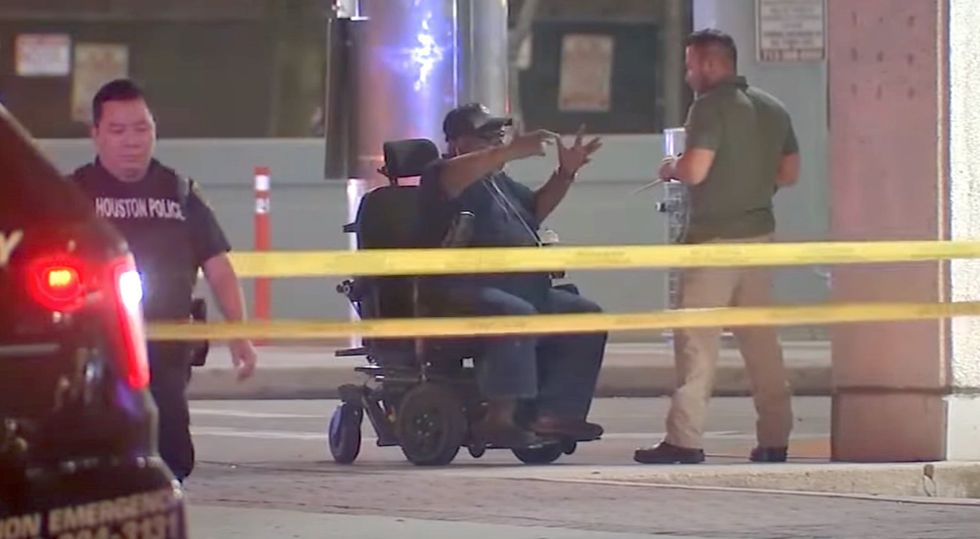 Police said a wheelchair-bound military veteran told them He shot and killed a teenager trying to rob him in downtown Houston, Texas.
The incident happened around 9 p.m. Monday night near the intersection of Main and Pierce Streets near the Downtown Transit Center.
The Houston Police Department said the 18-year-old suspect walked up to the veteran and attempted to steal his bag as he made his way to the transit center.
"He's a veteran and was in the area to take the subway back to where he lives," Lt. JP Horelica to KPRC TV.
Police said the veteran told them he pulled out a firearm and shot the attempted robber multiple times.
"The suspect ran several hundred yards where he collapsed and was picked up by the Houston Fire Department, treated and taken to a local hospital," Horelica added.
The suspect was last seen in stable condition and is said to be recovering.
The veteran stayed at the scene and cooperated with investigators, police said.
Officials have not said if anyone will be charged in the altercation, but said they will press charges once the suspect is well enough to speak to them.
Business owners in Houston have described a "relentless wave" of robberies that have forced many to sleep armed in their stores to deter crime.
The city was also the scene of a horrific attack on an Asian woman who was paralyzed as a result of being assaulted during a robbery. One of the teenagers arrested for this horrific crime appeared confessing to the crime and mocking the victim in a prison recording.
Here is a local news report on the incident:
Veteran in wheelchair shoots man who tried to rob him downtown: HPDwww.youtube.com
Like Blaze News? Bypass censorship, sign up for our newsletters and get stories like this straight to your inbox. Login here!
https://www.theblaze.com/news/wheelchair-veteran-shoots-robber Teen tried to rob wheelchair-bound Texas veteran and instead suffered multiple gunshot wounds, police say