Teenage boy allegedly kicked by Marjorie Taylor Greene while speaking to the legal department
The Gen-Z political activist, who was apparently deliberately kicked by Georgia Republican Representative Marjorie Taylor Greene on Capitol Hill on Thursday, is speaking with her legal team about filing charges against Greene.
As Greene exited a news conference Thursday afternoon, activists approached her and questioned her about gun laws and gun violence. Among them was Marianna Pecora, associate communications director at Voters of Tomorrow, a Generation Z-led movement that engages, educates, and represents youth in politics, whom Greene polled about gun laws and violence.
In a video shared by Pecora on Twitter, the two can be seen briefly addressing gun legislation before the activist walks in front of Greene. Then you see the obviously annoyed congresswoman tripping over Pecora and saying "sorry".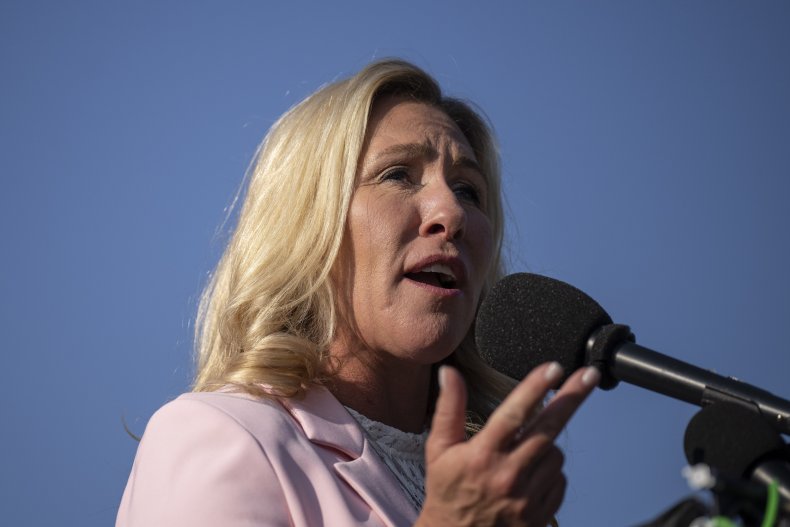 The video shows Greene saying "sorry" two more times before apparently withdrawing her foot to kick Pecora's leg. "Out of the way," Greene added, as the activist said, "Oh my god," and Greene immediately got out of the way.
Greene also shared a clip of the incident on her own Twitter profile, although she did not address the allegations of kicking Pecora.
"I'm so sorry, but I don't think it's unreasonable to expect members of Congress not to kick an 18-year-old citizen," Pecora wrote on Twitter.
"I still have trouble believing it but @RepMTG kicked me," she added tweet later on Thursday.
Users who commented on her post suggested Pecora file a police report and file assault or battery charges against the congresswoman.
"Make a report to the police! Don't let them treat you like that! You have the evidence, stand up to that BULLY!" wrote one user to the young activist. "Don't just tweet about it. File a police report," wrote another.
pekora said she is speaking to the group's legal teamalong with Voters of Tomorrow activist Santiago Mayer, who said he was verbally abused by Greene on the same occasion.
Mayer, a 20-year-old political activist originally from Mexico, reportedly told Greene that she "helps kids get shot at school" by not banning firearms in certain public places, like schools. The congresswoman responded by telling Mayer to just "move to another country."
"I asked her if her official stance as a member of Congress was that if I didn't want children to be shot, I should just move to another country," Mayer said Washington Post. He said Greene didn't answer.
But in a later tweet, Greene repeated her response.
"Like I said, he's a paid political activist who just so happens to be blessed to have immigrated to our great country." she wrote on Twitter. "He should respect and be grateful for American freedoms like our 2A, rather than trying to destroy them. If he doesn't like it, he can go back."
In another tweetGreene called the two activists "stupid cowards" who "want the government to take away guns and parents' right to defend their children in schools."
"You have to be an idiot to think that gun control will create a utopian society where criminals will disarm themselves and obey the law," she added.
Tomorrow's voters told news week that the indictment has not yet been decided, but that all options are open.
news week has reached out to Greene, Pecora, and Mayer for comment.
https://www.newsweek.com/teen-apparently-kicked-marjorie-taylor-greene-speaking-legal-team-1743632 Teenage boy allegedly kicked by Marjorie Taylor Greene while speaking to the legal department