Telescope captures sky spiral caused by SpaceX launch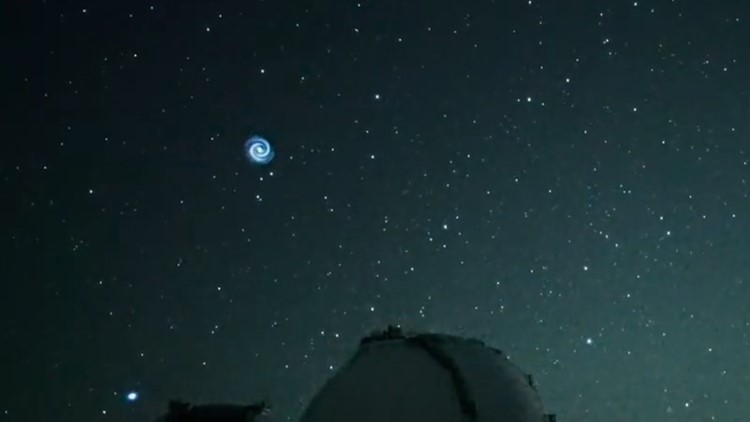 Time-lapse video captured from the top of Mauna Kea shows a white sphere expanding and spiraling as it moves across the sky.
HONOLULU — A camera on Hawaii's highest mountain captured what appears to be a spiral swirling through the night sky.
Researchers believe it shows the aftermath of a SpaceX rocket launch, when the company's Falcon 9 rocket sent a GPS satellite into orbit.
The images were captured on January 18 by a camera atop Mauna Kea outside the National Astronomical Observatory of Japan Subaru telescope.
A time-lapse video shows a white sphere expanding and spiraling as it moves across the sky. It then fades and disappears.
Ichi Tanaka, a researcher at the Subaru telescope, said he was doing other work that night and didn't see it right away. Then a stargazer watching the camera's live stream on YouTube sent him a screenshot of the spiral via an online messaging platform.
"When I opened Slack, I saw exactly that and it was a breathtaking event for me," Tanaka said.
He saw a similar spiral last April, also after a SpaceX launch, but this one was larger and dimmer.
The position of the Jan. 18 spiral coincided with where the second stage of the SpaceX rocket was expected after launch.
SpaceX did not respond to an email requesting comment on Friday.
Tanaka said the observatory installed the camera to monitor the environment outside of the Subaru telescope and share Mauna Kea's clear skies with the people of Hawaii and the world.
Someone observing the sky in less clear conditions, such as from Tokyo, might not have seen the spiral, he said.
The live stream is co-hosted with Asahi Shimbun, a major Japanese newspaper, and regularly reaches hundreds of viewers. Some tune in to see meteors hurtling across the sky.
https://www.kvue.com/article/news/nation-world/camera-captures-spiral-after-spacex-rocket-launch/507-529e0cd2-a3bc-46c2-8252-15b6fca4786c Telescope captures sky spiral caused by SpaceX launch