Tennessee Democrats face deportation for joining gun control protests
Tennessee Republicans are fighting back Democratic lawmakers who protested for gun control last week after the deadly shooting at a Nashville school.
GOP leaders in the Tennessee state house on Monday filed resolutions to disfellowship Representatives Gloria Johnson, Justin Jones and Justin Pearson for "disorderly conduct." The Tennessee.
The trio of lawmakers prompted a session of the House of Representatives to pause Thursday after breaking protocol by speaking out of line to repeat a chant in support of gun control amid the demonstration. Republican Speaker Cameron Sexton previously stripped Democrats of their ability to serve on committees.
According to Tennessee Democratic Party leader Hendrell Remus, the expulsion resolutions, which are not expected to be voted on until Thursday, are "very likely" to pass because the balance of power in the chamber is heavily skewed towards Republicans.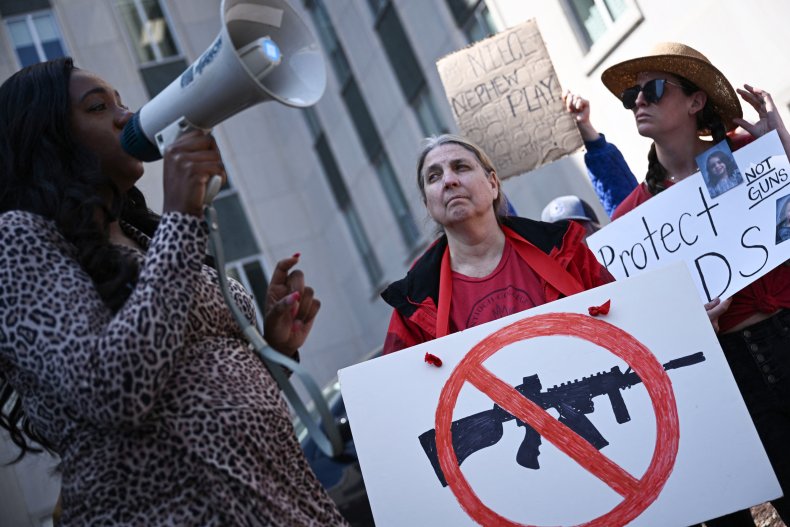 "We assume that's likely to happen," Remus said news week. "And right now we're in the process of how we're going to manage legality after it happened. And then, you know, either re-elect those representatives to their roles or have new Democrats elected to the same seats. "
Remus said that Sexton has "set his sights on" Johnson on numerous occasions in the past and Republicans have been "harassed" by all three lawmakers for being "open for the right reasons."
Last week, Johnson, Jones and Pearson also took part in what some Republicans called a "riot" in front of the House of Representatives. Some have also falsely claimed that the so-called uprising was orchestrated by the transgender community.
The youth-led protest was set to call for tougher gun laws after three adults and three children were killed in the shooting at The Covenant School. Police have identified shooter Audrey Hale as transgender but have not revealed a possible motive.
Sexton last week claimed the protest was "at least equivalent" to the January 6 attack on the US Capitol. He said in a series of tweets on Monday that his criticism was "solely directed at the actions of three Democratic lawmakers who stormed the fountain and those who used megaphones to lead a protest on the floor of the house."
The Republican leader went on to say that Democrats attempted "to victimize themselves" and were arrested during the demonstration after deciding to "break several codes of etiquette and procedure in the House."
Remus said that Sexton targeted Democratic officials and called the demonstration a "riot" to distract from the gun control issue and "wait for that moment" after the shooting at The Covenant School.
Remus said the Democrats' expulsion was "unprecedented" and would "really signal just how far the Republican supermajority in this state is willing to silence those who speak out against their positions and ideology."
In addition to losing their ability to perform committee duties, the Republican leadership revoked the credentials of Johnson, Jones, and Pearson, limiting their access to the legislature.
Some Republicans appear to be acting as if lawmakers have been barred, with GOP parliamentary group leader Jeremy Faison reportedly calling Jones a "former representative" on Monday.
https://www.newsweek.com/tennessee-democrats-may-face-expulsion-joining-gun-control-protests-1792340 Tennessee Democrats face deportation for joining gun control protests