Tennessee Republicans charged with racism after expelling two black lawmakers
Tennessee Republicans have been accused of racism after they ousted two black Democrats from the state house for breaking decency while attending a gun control protest.
Reps Justin Jones and Justin Pearson were both suspended from duty in the heavily GOP-controlled chamber on Thursday, a week after speaking out of turn to support a youth-led pro-gun control protest that followed the recent fatal filming was held at the Covenant School in Nashville.
An attempt to eject Democratic Rep. Gloria Johnson, who is white, failed by a vote. While Johnson didn't hold a megaphone on the House floor like Jones did, there seems to be little or no other difference between the Democrat trio and their breach of protocol.
Johnson told reporters that while her black counterparts weren't, her sparing "may have to do with our skin color." She wasn't the only one to accuse Republicans of singleing out Jones and Pearson because of their race.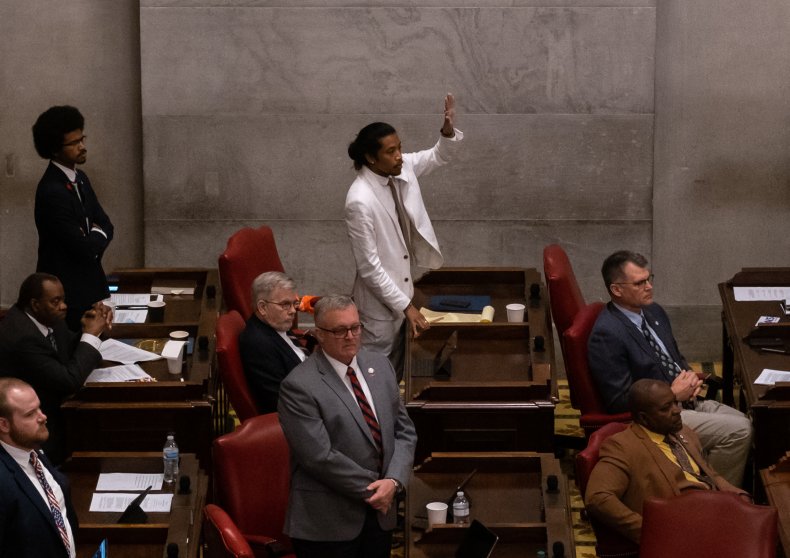 "What a blatant attack on democracy in Tennessee today" tweeted Bernice King, daughter of the late civil rights icon Martin Luther King, Jr. "The vote to expel @brotherjones_ is political retaliation and a reflection of a grave moral crisis in our state and national governments."
"So this attack on #democracy is also a #racist attack because the third lawmaker, Rep. Gloria Johnson, is white," King said added later. "A disastrously amoral day for Tennessee House Republicans in a state rocked by a school shooting."
"It's rare, RARE, that you see racism so surprising that it catches even *black* people off guard," said attorney and political commentator Elie Mystal tweeted. "But literally no one I spoke to, just a few hours ago, thought Tennessee would have the absolute gall to expel the two black men and not the white woman."
"Tennessee Republicans just kicked two black men out of the legislature for protesting, but allowed the white legislature, which did the same, to keep their seats." tweeted Olivia Julianna, director of policy and government affairs for the group Gen Z for Change. "This is blatant racism. Alive and healthy at the TN Capitol. We stand with the Tennessee Three."
"The[y] expelled the two black men and kept the white woman!" tweeted Democratic Tennessee State Senator London Lamar. "The racism on display today! Wow!"
"The Republican parties in Tennessee and Florida have been taken over by fascist and racist forces," said Florida Democratic Congresswoman Debbie Wasserman Schultz tweeted. "In both states, freedom of speech and expression is met with the removal of duly elected officials and government retaliation against private corporations."
"This is fascism, period" tweeted Congressman Jim McGovern of Massachusetts, also a Democrat. "MAGA Republicans are no longer content with inaction against gun violence — instead of thoughts and prayers, they want to silence and expel politicians who work to protect children. I vehemently condemn this racist, undemocratic attack on freedom of expression."
In a statement, Rep. Steve Cohen, the only Democrat representing Tennessee in Washington, DC, said, called the move to expel Jones and Pearson "an embarrassing stain on an important Democratic institution."
"The targeted expulsion of Rep. Justin Jones and Rep. Justin Pearson — two black, duly elected members representing minority districts — makes clear that racism is alive and well in Tennessee," said the Congressional Black Caucus in a opinion.
"Not only is this move racist and anti-democratic, it is morally bankrupt and at odds with the overwhelming majority of Americans who believe that we need common sense gun control reforms to save lives," the statement continued.
Meanwhile, some Republican commentators have defended the expulsion of black lawmakers by defending the move.
"Remember, as horrific and disgusting as the Nashville shooting was, it had nothing to do with race." tweeted Right-wing extremist Jack Posobiec. "The expelled Democrats are the ones who ran out on race and themselves because they are desperate to make racist on literally everything that happens in America."
Conservative commentator Todd Starnes suggested that Tennessee Republicans had opposed "insurgents" and "racist agitators".
"God bless the Tennessee Republicans who stand up for the rule of law," Starnes said tweeted. "They refused to be bullied by foul-mouthed insurgents. They refused to be intimidated by the professional racist agitators. Patriots, everyone. TennesseeThree."
news week Tennessee Republican Party Political Director Tyler Burns emailed for comment.