Texas escaped inmate Gonzalo Lopez had AR-15, pistol: police
The Texas fugitive killed in a dramatic shooting by police on Thursday had an assault rifle similar to the one used by gunman Salvador Ramos in the Uvalde school shooting last week.
Gonzalo Artemio Lopez, a convicted murderer who has been on the run since escaping from a prison bus after stabbing his driver last month, was shot dead at around 10:30 p.m. in Jourdanton, about 35 miles south of San Antonio Texas police shot dead, said Texas Department of Justice (TDCJ) spokesman Jason Clark.
Lopez, 46, was found with a stolen white pickup truck that TDCJ believes took from a family of five he allegedly killed earlier in their Centerville cabin.
He also had an AR-15 and a handgun, Clark told reporters. Authorities believe it's likely the firearms were stolen from Lopez's victims.
"Law enforcement in Atascosa County located the stolen vehicle, disabled it with spiked strips, and gunfire broke out," Clark said at a news conference after Lopez was found and shot. No officers were reportedly injured in the shooting.
The bodies of the family – two adults and three minors, according to Clark – were found by police officers in the family's cabin on Thursday after a call was made by someone worried they hadn't heard from an elderly relative.
At the time of the shooting, Lopez was about 200 miles from the area where he first escaped from the prison bus.
Police did not release the identity of the victims, but they believe there was no connection between Lopez and the family. They believe the family had just arrived at the cabin they owned for a family weekend.
Lopez, who was serving a life sentence for the 2006 murder of a man on the Texas-Mexico border, was a member of a Mexican mafia prison gang, according to Clark. In 2006, Lopez used a pickaxe to kill his victim. Police did not provide details of how the family was killed by Lopez Thursday afternoon.
The sentence Lopez was serving wasn't his only one: The fugitive had eight other convictions since 1994, including attempted capital murder, capital murder, aggravated kidnapping and three counts of aggravated assault, according to the TDCJ.
Texas police had been searching for Lopez since his May 12 escape. "I can tell you that we breathe a sigh of relief that Lopez can no longer hurt anyone," Clark commented on the fugitive's death.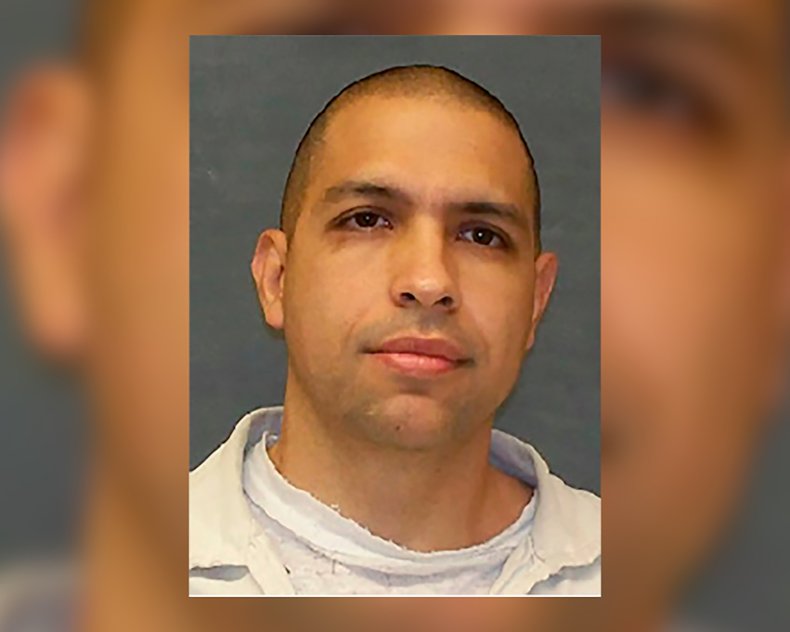 https://www.newsweek.com/texas-escaped-inmate-gonzalo-lopez-had-ar-15-handgun-reports-1712581 Texas escaped inmate Gonzalo Lopez had AR-15, pistol: police