Texas Fire Map, Update as Mesquite Heat Blaze Sparks Abilene Evacuation
Crews are fighting multiple Texas wildfires, including two in Llano County, the Sandstone Mountain fire and the Slab Road fire, just minutes away, while the Mesquite Heat fire prompted an evacuation order in the city of Abilene and destroyed at least 10 homes Has .
There were eight active fires across the state as of early Thursday morning, according to the Texas Wildfire Incident Response System. These are primarily in central Texas, including the Coconut Fire in Wilbarger County, the Llano County fires, one in Johnson Fork, the Pope 2 fire in Schleicher County, the Mesquite Heat fire, and another in Mayfield.
The Hamilton County Dry Branch Fire is an estimated 4,000 acres in size, according to the Texas A&M Forest Service as of May 18, which said it responded to the fire.
There was also an active fire near Amarillo in the far north.
Six wildfires were contained as of Thursday morning, including the Bowman, Great Oak, Mountain Ridge, Pope and Split fires, according to the Texas Wildfire Incident Response System.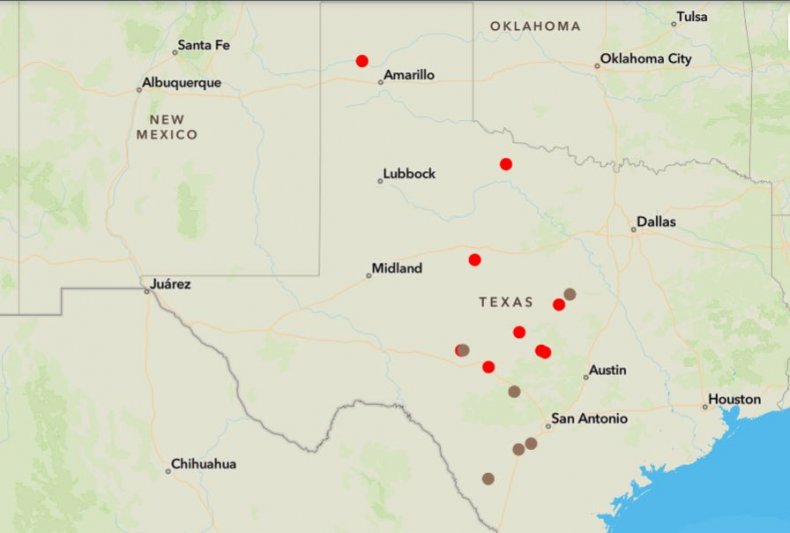 Fire officials said 10 homes in south Taylor County were destroyed as the Mesquite Heat fire burned for a second day, KTAB reported.
Homes along Brown Road from Hidden Valley Drive to Highway 277 and all of County Road 297 were evacuated "immediately" at 4:15 p.m. Wednesday, the Taylor County Sheriff's Office said.
In a Facebook post at 9 p.m. local time on Wednesday evening, the Lone Star State Incident Management Team with the Texas A&M Forest Service said, "The fire department resources of the Texas A&M Forest Service and the Texas Intrastate Fire Mutual Aid System (TIFMAS) have responded to several new requests for assistance with wildfires across the state today."
"There is a potential for large wildfires to occur in the western/eastern Hill Country and Rolling Plains by Friday, including areas near Childress, Vernon, Abilene, Brownwood, Lampasas, San Angelo, Ozona and Fredericksburg," it warned.
"Any new fires in grass and bush vegetation are unlikely to be controlled as underlying drought and critical to extremely dry vegetation combine with 100 degree temperatures and periods of elevated to critical fire weather."
The Llano County judge says although crews are making good progress on both wildfires along Highway 71, this could be the start of a very bad summer, FOX 29 reported.
"Some people don't realize how dangerous these conditions are, the slightest spark can start a brush fire," Judge Ron Cunningham told the news channel on Wednesday.
The judge, who has lived in Llano County most of his life, said the conditions reminded him of 2011, a particularly bad year for fires.
"The summer started out remarkably similar, with the low water conditions and the drought," Cunningham said.
Fourteen agencies are working together to put out the fires, including the Texas A&M Forest Service, FOX 29 reported. Airborne resources are also helping to suppress the fires, the agency said.
news week contacted Texas A&M Forest Service for additional comments.
A Texas A&M Forest Service firefighter suffered multiple burn injuries in a Wilbarger County fire Tuesday night, according to the Lone Star State Incident Management Team with the Texas A&M Forest Service, News 6 reported.
A thunderstorm near this fire created erratic winds that fueled the fire, changing its behavior and making it more difficult to contain. A firefighter was taken to a hospital for burns from radiant heat. They were later released and no other firefighters were injured, according to a Facebook post from the management team.
Texas has two wildfire seasons. One in late summer and fall, when temperatures tend to be the highest throughout the Lone Star State, and one in the dormant season between winter and spring, when vegetation is dead, dormant, or extremely dry.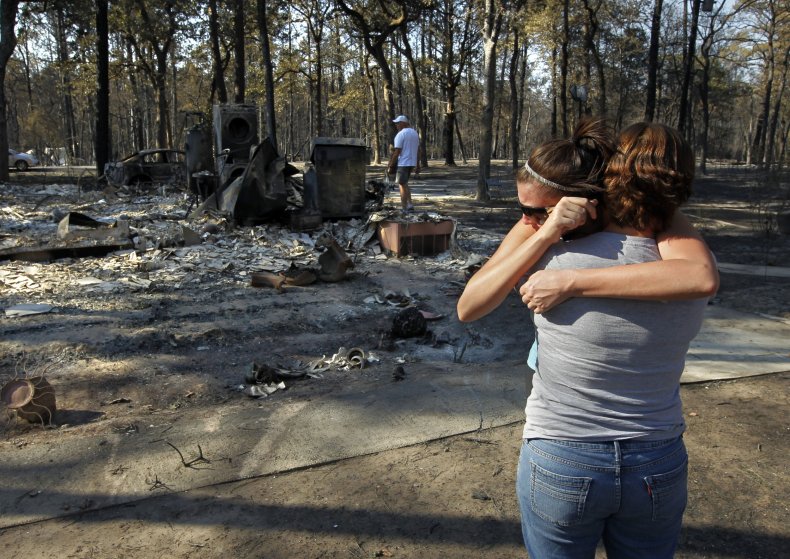 https://www.newsweek.com/texas-wildfire-map-update-mesquite-abilene-evacuations-1708052 Texas Fire Map, Update as Mesquite Heat Blaze Sparks Abilene Evacuation