Texas massacre suspect arrested after manhunt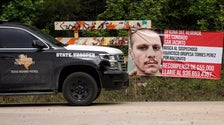 San Jacinto District Attorney Todd Dillon told local media that an individual believed to be Francisco Oropesa, 38, was arrested in the town of Cut and Shoot, about 40 miles north of Houston . Authorities are awaiting fingerprint identification, but the man was taken to a local jail and charged with first-degree murder.
Montgomery County Sheriff Rand Henderson told The Associated Press the man was arrested without incident. He didn't want to say if Oropesa had been armed.
The arrest ends a days-long manhunt after a man went to a neighbor's house with a gun and fatally shot five people inside in Cleveland, Texas. Those killed had reportedly asked a neighbor to stop firing his gun in his yard because they were trying to sleep. Authorities said last week MPs had previously been to Oropesa's home to speak to him about firing his guns in his garden.
The victims were identified as Honduran natives who had moved to North America, including a mother and her young son.
The shooting has sparked anti-immigration rhetoric in Texas.
Gov. Greg Abbott (R) drew criticism after issuing a press release offering a $50,000 reward for information on Oropesa's whereabouts. In his statement, the governor called the victims "illegal immigrants." He later said he regretted this language and didn't want to "detract from the important goal of finding and arresting the criminal."
The current immigration status of Oropesa is unclear. He is a Mexican citizen and CNN reported last week that he has been deported at least four times.