Texas SB 8 author speaks to ITP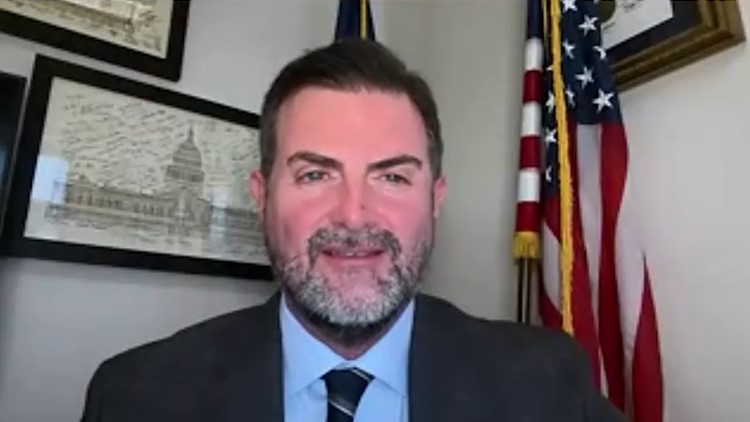 The bill would free up thousands of taxpayer dollars for families to switch schools.
TEXAS, USA – Texas Republicans have made "freedom of education" a priority this term in Austin, and there's now a bill they say does just that.
SB8 would provide $8,000 in taxpayer money per student to enable families to transfer their children from public schools to private schools, including religious schools.
The bill's author, Senator Brandon Creighton, says a traditional voucher is money that is distributed directly to a family.
But the Republican chair of the Senate Education Committee says his bill says otherwise.
"For educational savings accounts, as specified in our guidelines, the Office of the Audit Office would accept applications to use $8,000 in these educational savings accounts, and these go directly to an accredited private school of family preference," he said us Sen. Creighton on InsideTexas Politics.
The state of Texas currently provides schools with just over $6,000 per student. But when you add in the amount that local taxpayers contribute, it's estimated that the number grows to about $10,000 per student.
So the figure of $8,000 is the median between these groups of numbers.
But Sen. Creighton says, more importantly, they had to find a number that wouldn't hold the budget or the legislature hostage going forward.
"For the $8,000, we were just looking at a number that we could comfortably justify from a dollar shortage standpoint in this budget, so as not to create some kind of tax cliff," the Republican said. "We're cautious about surpluses because we can't commit future legislation or budgets to money that won't be there in the future."
However, some critics of SB 8 wonder who will hold private schools accountable given that public schools are held to a different standard as they are judged on standardized tests and private schools are not.
Senator Creighton says the bill will empower parents to make decisions for their own children and says there will be an approved list of private schools.
"That's the difference between a voucher and an education savings account. These schools will already be on a state-recognized list and have a very reputable track record," the senator said.
The idea of ​​school choice has fizzled in past legislatures due to strong opposition from Democrats, who often represent urban school districts, and rural Republicans, who want to protect public schools in their districts, which are often the largest employers.
But SB 8 offers a lure to these rural Republicans.
Any district with fewer than 20,000 students would receive $10,000 per student leaving a public school for a private school. And that spin-off for counties would take two years.
Sen. Creighton says it will help districts "scale" the impact for each student who leaves the school until they can get their feet under them.
But he also tells us that some other states that have implemented similar ESA options have not seen that many rural students have used this option.
In any case, he speaks of a soft landing for medium to small districts.
And SB 8 goes well beyond Education Savings Accounts (ESAs), from teachers uploading lesson plans to a portal for parents to review, to "age-appropriate" content.
It will be the legislature that decides what is and is not age and development appropriate and decides on definitions as the bill makes its way through the committee process.
"But for now, legislators will make those determinations by tightening definitions based on member will, expertise and input," he clarified.
SB 8 also has an accompanying bill, SB 9, which would include general salary increases for teachers and likely a modest additional increase for those teaching in rural schools.
"Although we're talking about statewide average starting salaries ranging from $58,000 to $60,000, many of our rural teachers are still in their upper 30s, sometimes even in their low 40s. So we're going to make sure they're raised in a way they've never been before."
Sen Creighton tells us that they are still in the budgeting process, so the exact amounts are not yet known.
The big question is whether he has the votes.
He tells us momentum is strong and growing, but he hasn't counted heads yet.
But the longtime advocate for education is adamant that Texas can do all of these at the same time.
"Anyone who creates a narrative that you can't empower public schools and teachers or provide literacy to families is creating a false and divisive narrative," said Sen. Creighton. "We will be able to achieve both. And I think membership will get there."
https://www.kvue.com/article/news/politics/inside-politics/texas-politics/school-choice-bill-sb-8-texas-state-senator-brandon-creighton/287-8f8ccc94-7def-490b-8a1a-4e9c8c1dd17b Texas SB 8 author speaks to ITP