Texas Senator interrupts Greg Abbott press conference: 'Call us back'
A Texas state senator interrupted a news conference by Gov. Greg Abbott on Friday to urge him to reconvene the state legislature in the wake of the fatal Uvalde school shooting.
State Senator Roland Gutierrez, a Democrat representing Uvalde, called on the Republican governor to call the legislature into a special session to take action on gun violence.
"My colleagues are asking for a special session. You will receive a letter tomorrow. We've asked for gun control changes. I'm asking you now to bring us back in three weeks," Gutierrez said.
Gutierrez apologized for interrupting proceedings and said his intervention was not intended as a political stunt.
"I've been here with all these elected officials for three days," the Democrat said. "That district judge worked his ass off. The mayor, the aldermen, I don't know how to express the loss of the families I spoke to."
"And I know you feel it too. And we gotta do something, man. Your own colleagues tell me, call me and tell me that an 18-year-old shouldn't have a gun. That's enough, call us back man," Gutierrez said.
Then he left the auditorium and the press conference continued.
Asked about a possible special session of lawmakers earlier in the press conference, Abbott said "all options are on the table."
Gutierrez's action comes after former Democratic Rep. Beto O'Rourke interrupted a press briefing by Abbott and other Republican officials on Wednesday when he furiously criticized Abbott for inaction on gun control before he was escorted out of the auditorium.
O'Rourke is running against Abbott in this year's gubernatorial election, in which the Republican is seeking a third term.
The Texas Democratic Party issued a statement following Gutierrez's remarks, saying, "No more kid. No more teacher. No More Texans The Texas Democratic Party joins its call for a special session to ban automatic weapons and pass life-saving legislation to end gun violence in Texas.
Governor Abbott paid a second visit to Uvalde on Friday after the Robb Elementary shooting killed 19 children and two teachers. He canceled a planned appearance at a National Rifle Association (NRA) event on Friday under criticism, opting instead to visit Uvalde and hold a press conference there.
Abbott told the press conference that he was "misled" about law enforcement's response to the shooting after initially praising police for their "amazing courage."
There has been significant criticism of the police response amid at times conflicting reports from officers and confusion over the timeline of events.
"Some of the information I received turned out to be inaccurate and I am absolutely furious about that," the governor said Friday.
news week has asked the Abbott campaign for comment.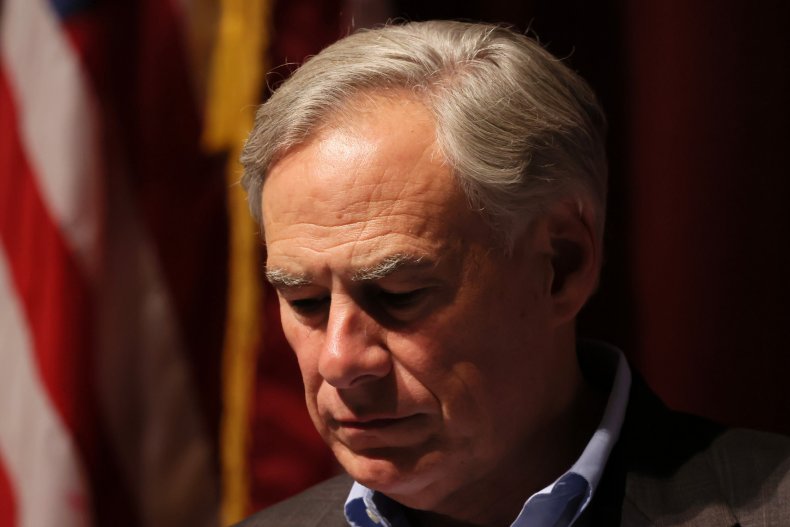 https://www.newsweek.com/texas-senator-interrupts-greg-abbott-press-conference-call-us-back-uvalde-shooting-1711112 Texas Senator interrupts Greg Abbott press conference: 'Call us back'