The $2.2 million Rimac Nevera just set 23 land speed records in one day
The Rimac Nevera is the fastest production car in the world…in pretty much every way.
The $2.2 million electric car set 23 acceleration and braking records in a single day on April 30 at a test track in Germany.
The 1,914 hp Nevera sprinted to 60 mph in 1.74 seconds, beating the 1.79-second mark set by the Pininfarina Battista last year, which is based on the same battery-powered platform.
It also covered a quarter mile in 8.25 seconds and a half mile in 12.82 seconds, the latter being about as fast as covering the distance in free fall.
WHO EVER BUYS A $3 MILLION ITALIAN ELECTRIC SUPERCAR?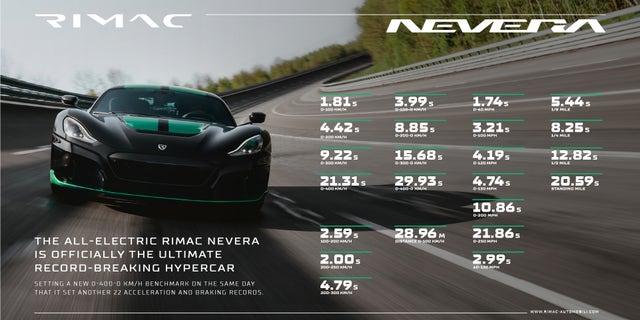 His braking skills were demonstrated with a sprint from 0 mph to 249 mph and back to 0 mph, which he completed in 29.93 seconds, more than a second faster than the previous record.
The Nevera had already secured the title of the fastest electric car in the world with a certified 258 miles per hour last year.
Rimac based in Croatia established a joint venture with Bugatti in 2021 and focuses on high-end hypercars.
CLICK HERE TO SIGN UP FOR THE FOX NEWS AUTOS NEWSLETTER
Company founder Mate Rimac said of the Nevera's achievements: "Growing up I always looked to the cars that made history and pushed the performance bar, in awe of the kind of revolutionary technology they brought to the road . That's what drives me from day one – to develop new technologies that redefine what's possible."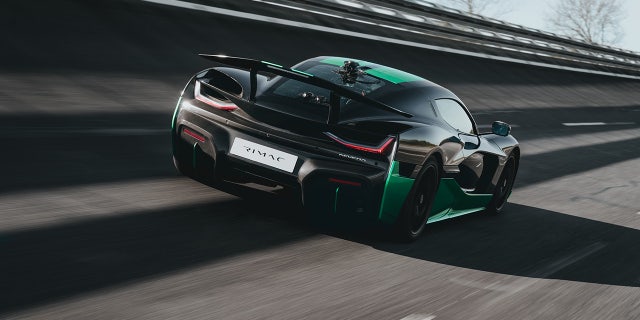 "When we first started developing the Nevera, our performance goals were incredibly ambitious, and now we've managed to exceed all of those goals."
CLICK HERE TO GET THE FOX NEWS APP
The Nevera uses four electric motors and has a US-certified range of 287.28 miles per charge.