The 2024 GOP race comes to the city of the recent Trump impeachment, sans Trump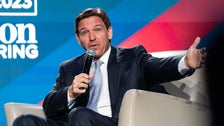 ATLANTA — The 2024 Republican presidential election took place Friday in the city where top candidate Donald Trump has just been indicted on racketeering and fraud charges over his attempted coup — and participants did their best not to talk about it.
South Carolina Senator Tim Scott made no mention of Trump during his 45-minute onstage question-and-answer session with radio talk show host Erick Erickson. Florida Gov. Ron DeSantis told the audience of 500 that he hoped Trump would show up at the first GOP debate in Milwaukee next week, but had nothing to say on the allegations that could land Trump in prison for decades.
And former South Carolina Gov. Nikki Haley, meanwhile, said Republicans need to relegate Trump's "negativity" to the past and pick a candidate who could win, but made no particularly negative statements about him.
By next Friday, Trump has to report to the Fulton County jail to be fingerprinted and photographed, just eight miles from the Grand Hyatt in Atlanta's Buckhead neighborhood, where Erickson's radio show conservative listeners' conference is being held.
Erickson said he deliberately avoided asking about Trump's criminal charges because he wanted to give the other candidates a chance to present their own visions. However, he joked that Trump's no-show would probably be for the best, as he has yet to be charged and risks arrest if he enters the state: "Under Georgian law, you know what the prosecutor would want to do."
In fact, the harshest criticism of Trump from the stage came from someone not running for president in 2024, Georgia Governor Brian Kemp, who became Trump's primary target in last year's midterm elections for refusing to help , to reverse Trump's defeat in 2020 state.
Kemp said he will not discuss the Fulton County prosecution as he is likely to be a prosecution witness at the trial, but made it clear that supporting Trump as a candidate would ensure that the 2024 election would be all about his continued lies regarding of the year 2020 will go election and the resulting criminal cases.
"It's insane that we have to deal with this," he said. "It should be an easy way for us to win back the White House."
Former Vice President Mike Pence, while not discussing Trump's various prosecutions onstage, in an exchange with reporters afterwards, tacitly supported Georgia's charges against Trump, saying, "No one is above the law."
This weekend's "Gathering" conference is a repeat of the one Erickson hosted eight years ago, when he removed Trump from the event after attacking former Fox News anchor Megyn Kelly – "Blood was running out of her eyes, leaking out she was running blood…whatever." — after she asked him a question about his treatment of women at the first GOP debate of this election cycle.
At that event, a large percentage of the attendees, mostly evangelical Christian conservatives, were receptive if not supportive of Trump because, despite his behavior and language, they believed he would fight for them. Eight years later, audiences are largely convinced that the party needs to get past Trump.
"And a lot of them are the same people," Erickson said.
He added that he did not invite Trump to attend, knowing that Trump refuses to attend multi-candidate events, but invited every other Republican who had either declared his candidacy or who he knew had likely to declare his candidacy when setting the agenda several months ago.
Trump's most recent indictment in Georgia, his fourth, brings the total number of felony counts against him to 91. Charges in Fulton County include racketeering and conspiracy to commit forgery, while last month he also faced a federal indictment for his related acts indicted in his January 6, 2021 coup attempt. A second state indictment includes 40 felonies for his refusal to release top secret documents he kept at his Florida country club, while a New York state indictment alleges he falsified business records for hiding a $130,000 hush money payment to a porn star days before the 2016 election.