The 2024 Nissan GT-R sharpens with heritage colors and extreme aerodynamics
Nissan unveiled its updated GT-R supercar at the Tokyo Auto Salon on Thursday. The iconic nameplate returned to the US in 2009 and has been continuously updated over just one generation. For the 2024 model year, the GT-R gets a visual redesign, traditional colors and some new mechanics – and the T-Spec trim makes a return.
The 2024 Nissan GT-R will be offered in three trim levels. The GT-R Premium and T-spec come with 565 hp, while the new GT-R NISMO even delivers 600 hp. The two base GT-Rs arrive at select US Nissan dealerships this spring; the NISMO lands in summer.
"Finding new ways to chop up this GT-R makes perfect sense for Nissan. For one, it's garnering plenty of press and attention, which helps brush up on Nissan's track record. The hope is that the GT-R will serve as a halo for other models in the range, particularly the current Nissan Z, which is expected to release a NISMO version itself in the near future," said David Undercoffler, Editor-in-Chief at Autolist news week.
The changes to the GT-R are designed to increase downforce for stability at speed. Changes include the redesigned front and rear aprons, new bumper sides, updated grille shapes and reshaped rear wings. Nissan engineers even thinned the mesh grille to assist the wind, resulting in the same 0.26 Cd drag coefficient as the previous model despite this increase in downforce.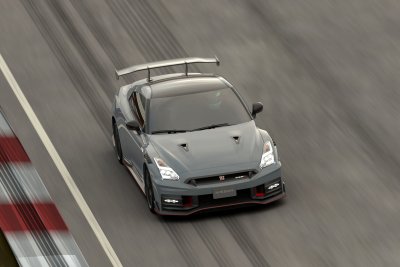 The NISMO's rear wing gets gooseneck struts, meaning they attach to the top of the wing, and the surface area has been increased by 10 percent. The NISMO also comes with a new front lip, a rear diffuser and canards, those little wings on the side of the front bumper.
The T-spec model adds carbon-ceramic brakes, a gold-painted version of NISMO Rays 20-inch forged wheels, NISMO-tuned vehicle dynamics controls, and wider front fenders. It carries a special badge with a dark green color.
Two classic GT-R colors, Millennium Jade and Midnight Purple, will both be available. The Jade pays homage to one of the rarest GT-Rs of all time, the R34 GT-RV-Spec II Nur. The new Midnight Purple is a modern interpretation of the R34 GT-R V-Spec's Midnight Purple III colour.
Inside, drivers are greeted by nappa leather and a horizontally spread dashboard. The T-Spec is clad in Mori Green with semi-aniline and suede upholstery. Nissan Connect comes standard with an 8-inch touchscreen with Apple CarPlay, navigation and satellite radio.
The display continues with GT-R specific gauges, g-meters and lap timers. Dual-zone climate control, a Bose sound system, heated front seats and parking sensors are also standard.
The 2024 Nissan GT-R continues with a 3.8-liter, twin-turbocharged V6. It makes 467 pound-feet of torque to go along with its 565 horsepower in the standard versions. All come with all-wheel drive and a six-speed dual-clutch transmission with paddle shifters. A lightweight titanium exhaust is also standard.
The GT-R has independent front and rear suspension with Bilstein adjustable shock absorbers. You have three settings – Normal, Comfort and R – controlled by the central toggle switches along with the engine characteristics. Brembo supplies the brake calipers, six-piston in front, four-piston in the rear. T-spec and NISMO are equipped with carbon ceramic brake discs.
Mechanically, the NISMO GT-R features additional aerodynamic improvements, more powerful turbochargers and lighter components from its GT3 race car, including carbon fiber. The NISMO comes with 16.1-inch carbon-ceramic brake rotors up front and 15.3-inch rotors in the rear, saving 36 pounds at the corners. The NISMO's engine produces 600 horsepower and 481 pound-feet of torque.
"It makes sense that Nissan would continue to tweak the GT-R to keep it fresh in the minds of buyers, something Porsche excels at with the myriad iterations of its 911, and something Acura never gets enough of with its underrated NSX did," he said undercover.
"Sports cars are a tricky business these days because sales are so low that automakers have to constantly reinvent their existing models, rather than starting from scratch as they would with better-selling vehicle types. Luckily for Nissan, this GT-R was ahead of its time when it was first released, so it's been able to stay relevant over the years with updates like the ones we're seeing today."
Pricing has not yet been announced, but the 2023 Nissan GT-R starts at $115,435, including destination and handling. The GT-R NISMO is priced at $210,740.
https://www.newsweek.com/2024-nissan-gt-r-sharpens-heritage-colors-extreme-aerodynamics-1773429 The 2024 Nissan GT-R sharpens with heritage colors and extreme aerodynamics