The Backstory: When Texas and Oklahoma went to "war" over a bridge over the Red River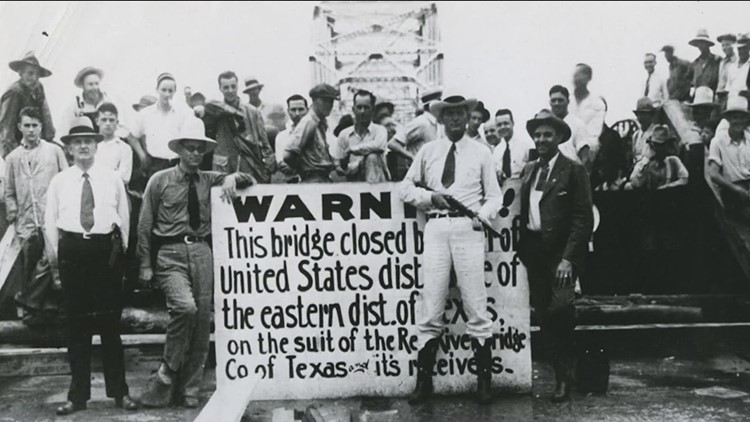 Historians call it a war, although no shots were fired.
AUSTIN, Texas – The Red River separates Texas from Oklahoma. Nowadays, when we talk about a fight between the two states, we usually refer to the annual college football rivalry between the states University of Texas and the University of Oklahoma.
But it was 1931 along the river when federal armed troops and Texas Rangers faced off in a standoff over the closure of a highway bridge.
Both states had worked together to build a freeway bridge over the Red River to connect Denison, Texas and Durant, Oklahoma. People could drive over it for free.
But that angered a man who owned a toll bridge nearby. Texas agreed to buy and close its toll bridge but did not pay.
When the owner of the toll bridge sued the state for non-payment, then-Texas Gov. Ross Sterling was ordered by a federal judge to barricade the free bridge until the lawsuit could be resolved.
But these roadblocks angered Oklahoma Governor William "Alfalfa Bill" Murray, who ordered the bridge to be reopened and sent troops to assist him. In response, Governor Sterling sent in the Texas Rangers.
What followed was a multi-week stalemate.
The matter was eventually resolved peacefully when Texas finally paid off the toll bridge operator and the free bridge reopened. It remained in use until 1995 when it was removed and replaced with a new bridge.
Incidentally, much of the old bridge ended up in a field in Colbert, Oklahoma: the last remnant of the 1931 "war" between Texas and Oklahoma.
The Round Rock couple allege the contractor took money for work he didn't do
"I love my family" | Purdue University student arrested for murder of dorm roommate; services for victims
Police are looking for a suspect in connection with 9 violent robberies in North Austin
https://www.kvue.com/article/news/local/texas/texas-oklahoma-war-bridge-across-red-river-1931/269-f5913610-ff2a-4853-a3f8-c33120d980d6 The Backstory: When Texas and Oklahoma went to "war" over a bridge over the Red River