The Canadian Conservative leader casually negates the reporter's line of attack by simply asking what he means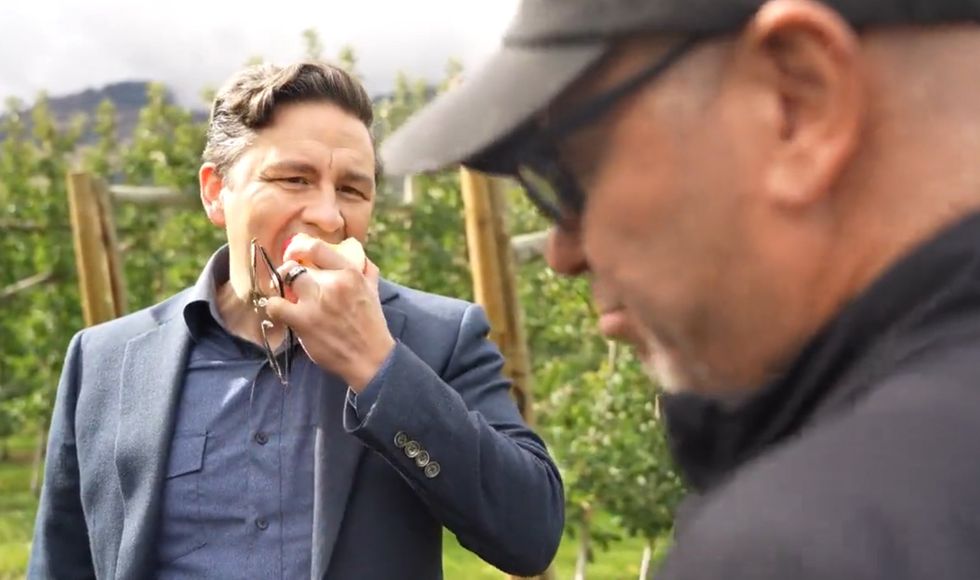 The Conservative Party of Canada is currently
crush Prime Minister Justin Trudeau's Liberals in the polls. The fact that the Liberal Party celebrated a veteran Waffen-SS Nazi in Parliament last month probably didn't help.
Faced with the prospect of dramatic change, some of the northern country's left-leaning, state-subsidized media appear eager to portray rising CCP leader Pierre Poilievre as a Trumpist figure. Poilievre has shown once again that reporters must do their best to make a breakthrough before the 2025 elections.
The conservative leader
spoken last week to Don Urquhart of the Times Chronicle in the town of Oliver, British Columbia, after an initial meeting with area fruit growers. He discussed some ways he would remove bureaucratic hurdles and government barriers to a better life for Canadians, including apple farmers.
"We will no longer accept that this or that gatekeeping bureaucracy stands in the way of obvious, sensible solutions," Poilievre said. "And when people come to me they say, 'Yes, but this or that employee or the bureaucracy won't be happy.' That's life, right? There will be a lot of interest groups and bureaucracies that will be very unhappy if I am prime minister."
At one point in the interview, the reporter tried to play with a thematic groove, which was regularly deepened by
Canadian state media And Toronto's union newspaperHe said: "From your strategy you are obviously going the populist route at the moment."
Between chewing his apple, Poilievre asked, "What does that mean?"
Urquhart laughed nervously and then replied: "Well, I would guess that I appeal to people's more emotional levels. I mean, definitely… They use very strong ideological language quite often."
"Like what?" asked Poilievre, clearly interested in not dwelling on abstractions.
"The left wing, you know, this and that, the right wing. … This guy," Urquhart said.
"I didn't really talk about left or right. I don't really believe in that," Poilievre said.
Urquhart remained committed to stating the essence of his accusation: "Anyway, a lot of people would say you're just taking a page out of Donald Trump's book."
"Right, what people would say that?" said the conservative.
"Well, I'm sure there are a lot of Canadians, but…"
"Like who?" Poilievre said again.
"I do not know who. … I'm sure there are some out there," Urquhart said. "But anyway, the point of this question is, I mean, why should Canadians trust you with their vote when you don't just have the ideological inclination to take a cue from Donald Trump's book -"
"What are you talking about? From which side?" asked Poilievre. "Give me the page."
"When it comes to changing things pretty dramatically, I mean, in terms of Trudeau and the left wing and all that. You make, you know, it's quite a play you make out of it," Urquhart continued.
Poilievre, finished with both his apple and Urquhart's tortured attempt to recall a parallel with former President Donald Trump, replied: "I don't know what your question is."
The reporter later managed to find the right words
write down in the interview: "When asked why Canadians should trust him with their votes, given his proven record of turning heads on key issues and some who view his polarizing, ideologically-infused rhetoric as giving the impression that he is simply taking sides." "takes over from Donald Trump's populist playbook." Poilievre became snappy.
The CPC leader ultimately told Urquhart that Canadians should trust him with their votes out of "common sense."
"I will cut spending, reduce waste so we can balance the budget and reduce inflation and interest rates. If you want to pay your mortgage again, if you want to afford the rent, then you have to vote for it [Pierre Poilievre]because I am the only one who has a common sense plan that will restore the purchasing power of your salary," the conservative added.
A September Ipsos poll showed the Conservatives leading the Liberals 39% to 30%.
reported Reuters. 60% of Canadians surveyed want Trudeau to resign.
Polls by the Angus Reid Institute put the Conservatives at 39% and the Liberals at 27% – enough for Poilievre's party to form a majority government at the next election.
Darrell Bricker, CEO of Ipsos Public Affairs, said: "Pierre Poilievre does a great job of selling himself to Canadians. … [L]as if there was Poilievre mania. It's really just a desire for change."
Do you like Blaze News? Bypass the censorship, sign up for our newsletter and get stories like this delivered straight to your inbox. Login here!