The changes to Diablo 4 Season of Blood are so good that it's hard to play now
Now that we've learned pretty much everything we need to know about Season of Blood, the second season of Diablo 4, it's time to turn our focus to the many, many quality of life changes that the upcoming season brings to the game.
One could even say that the sheer volume of highly requested additions, the basic features missing since launch, and the numerous fixes for some of the most annoying issues are all a bigger deal than the new vampire-themed content in Season of Blood.

To view this content, please enable targeting cookies.

Manage cookie settings

Everything we'll cover here will be available in Diablo 4 with Patch 1.2.0, releasing on October 17th, ushering in the Season of Blood. The list is so extensive that we've broken it down into different topics to make it easier to understand.
Generally
All Renown rewards earned now persist between seasons and character (not including gold or XP).
Earned skill points, potion capacity, maximum obols, and paragon points earned through reputation persist between characters (however, XP and gold must be earned).
Hardcore characters who earn Renown rewards in S1 will find them in S2 regardless of whether they died or not.
You can now mark items as favorites to prevent them from being sold or destroyed.
Everyone gets two additional character slots.
Players can now jump into seasonal content when a character on their account has completed the prologue – meaning you no longer need to complete the entire campaign.
Minions and Companions no longer target invulnerable enemies.
Smoldering Ash in the Battle Pass now has lower level requirements and will be applied by default when you reach the required level.
connections
Mounts no longer get stuck in random geometry or slow down unexpectedly.
Spur duration now breaks through barricades and speed boost duration increased by 50%.
The mount's base speed has been increased by 15%, but its maximum speed remains the same.
You no longer have to drag your cursor to the edge of the window to reach maximum riding speed.
Descent skill cooldowns have been reduced overall. Manual descent shortened from ten to five seconds. Forced mount (damage) reduced from ten to four. Descending combat is now possible after three seconds, instead of ten.
XP, level up and monsters
The path to level 100 will be 40% faster compared to Season 1. The XP gained from killing monsters at level 50 and above is significantly increased and increases with each level.
Monsters in world levels 3 and 4 correspond to the current player level after levels 55 and 75. You will no longer lag behind player level.
XP bonuses (elixirs, seasonal blessings) now multiply by the world rank bonus, making them much more impactful.
Incense sticks now persist until death and provide XP bonuses when active.
Cities
Storage rooms have been added near important merchants in all capital cities.
Additionally, hideouts have been added to all small towns with waypoints.
There is now an Occultist near the Tree of Whispers waypoint.
Curiosity dealers have been moved closer to the main waypoint in capital cities.
All characters who skip the campaign now start with ten waypoints unlocked by default in strategic locations (two per region).
User interface and UX
You can now browse your inventory and filter by item type.
Extracted Aspects with the same Legendary Powers are now grouped into Hideout and Inventory when sorted.
Tooltips for item additions will be more consistent.
You can now automatically run and your character will continue to move in the direction they are facing until either a skill or movement ability triggers.
The minimap has been reduced in size.
You can now hide all combat text (Vulnerable, Fortified, etc.) but not the numbers.
Uniques are now easier to spot and identify.
Improved cursor contrast colors and options for versatility and customization.
Screen reader is now enabled by default.
Streamer Mode is now an option and hides character names and Battle.net usernames.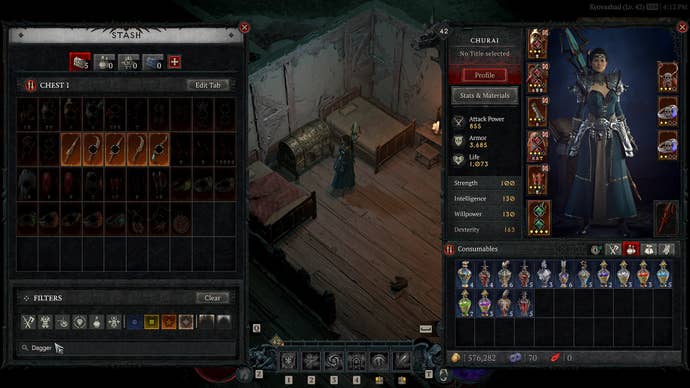 Endgame activities
Legion events now occur every 25 minutes instead of 30 minutes. Warning timers have been increased from five to ten minutes.
World boss spawn timers have been reduced from six to three hours and thirty minutes. World boss warning timers increased from 30 to 60 minutes. Server-wide message when the world boss is 15 minutes away from appearing.
Helltide Chests, redeeming Grim Favors, and completing individual Whispers grant more gold and XP.
Helltide Chests now have descriptive icons indicating the type of reward they provide.
Whisper Caches now only drop the item slot they claim to contain.
Nightmare Seals from Whisper Caches are now always within five levels of the highest level Nightmare dungeon you have completed.
Nightmare Dungeons
Nightmare Seals now teleport you directly into the Nightmare Dungeon, not the entrance.
Nightmare Seals are rewarded upon completing the Nightmare dungeon, regardless of whether it has a boss or not.
Some nightmare dungeons no longer have objectives, just a boss to defeat.
All dungeon targets now appear on the critical path in the dungeon.
Many dungeon layouts have been redesigned.
Traps are easier to read, including environmental traps. They also have less crowd control ability.
End caps have been added to ensure dungeon layouts don't appear too linear.
Paragon Glyph XP earned in NM dungeons has been increased.
Nightmare Dungeon Affliction updates
Sneaky: Close monster attacks from behind will leave you vulnerable. Vulnerable damage taken is increased by X%.
Monster Critical Resistance: Monster attacks reduce the damage of your critical hits by X% for three seconds, stacking up to Y%.
Death Pulse: Prevents death pulses on monsters that have explosions upon death, preventing them from repeatedly spawning on top of each other.
Lightning Storm: Being "shocked" in the protective dome grants 35% additional movement speed for five seconds. The storm only occurs when players are in combat and only if the player has a direct path to the dome.
Drifting Shadow: Duration reduced from five to three seconds and respawn time increased by two seconds.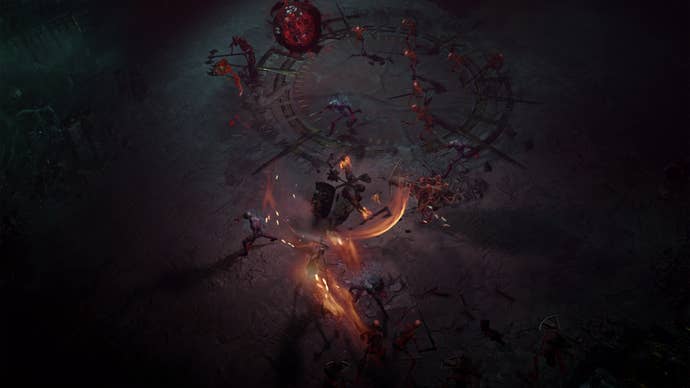 Events
NPCs who request your help no longer die in one fell swoop at world rank 3 and 4.
Dungeon events now spawn more monsters to make them worth your time.
Items and Inventory
Gems are now in your crafting materials list. Instead of earning gems, you'll receive shards that you can take to a jeweler to craft
Disconnecting in Hardcore Mode now consumes an Escape Scroll instead of directly killing your character.
The overall enchantment cost of legendary items has been reduced.
In World Tier 3, normal, magical, and non-holy rare items now drop as crafting resources.
In World Tier 4, normal, magical, and non-ancestral rares will now drop as crafting resources.
Gold drop rates are increased in World Tiers 3 and 4.
Defeating higher level monsters in World Tier 3 and 4 now drops Holy and Ancestral items with higher item power.
Normal Whisper Caches always reward items with +10 Strength. Improved caches to +20.
Helltide caches now reward +20 power items, but do not exceed the ancestral limit.