The CNN host tries to paint Rubio as a hypocrite for hurricane funding – but the attempt quickly fails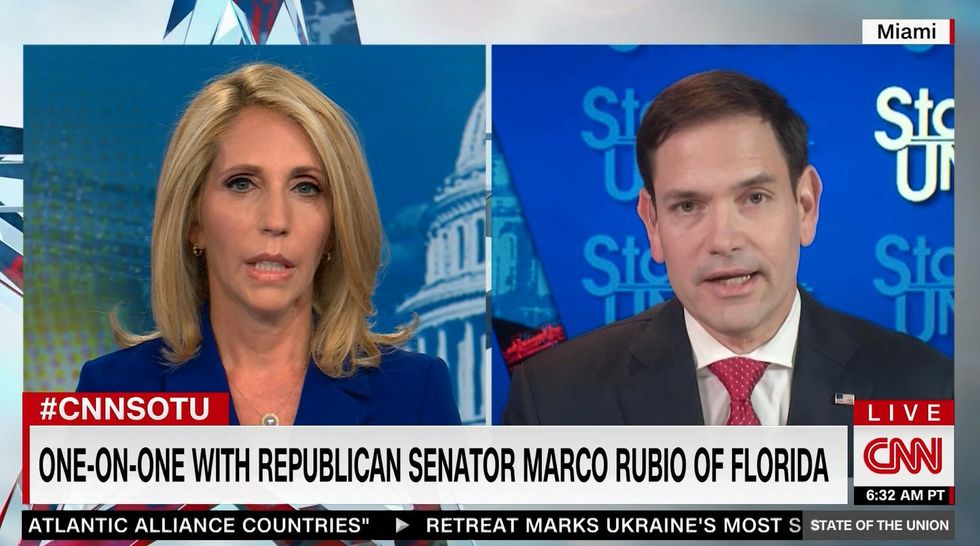 CNN anchor Dana Bash on Sunday tried to corner Sen. Marco Rubio (R-Fla.) as a hypocrite, but her attempt backfired and she finally expressed her approval of his position.
What happened?
Bash interviewed Rubio on CNN's "State of the Union" and attempted to corner Rubio apply for federal aid for his constituents after Hurricane Ian devastated Florida, although he opposed the big post-Hurricane Sandy relief bill.
"After Hurricane Sandy hit the northeastern states in 2012, you voted no to a $50 billion relief package," Bash said. "Why would other senators vote for relief for your state if you didn't vote for a package to help your state?"
However, Rubio immediately refuted accusations of hypocrisy.
"I have always voted for hurricane and disaster relief. I even voted for it without pay," the senator began.
"What I didn't vote for with Sandy is because they included things like a roof for a museum in Washington, DC, for the Alaskan fisheries — it was packed with a lot of non-disaster relief stuff," He added, "I would never say that we should use a Florida disaster relief package to pay for all sorts of other things that people across the country want."

Senator Rubio joins CNN's State of the Union to speak about Hurricane Ian

youtube

Bash responded that in preparation for the interview, she read the Congressional Research Service report, which detailed how the Sandy Aid money was spent, and claimed it was responsibly allocated.
Without allowing Rubio to address her request, she asked another question: If the legislature stuffs a relief bill with pork, will you oppose a relief for Florida?
"I will fight against having pork in it. That's the key," he replied. "We shouldn't have that in there because it undermines the ability to come back and do that in the future."
Despite popping the Gotcha question, Bash agreed with Rubio that supercharging disaster relief bills with "pet projects" is a good way to ensure a relief bill never sees the light of day.
What about Sandy's Auxiliary Law?
The Washington Post fact checked similar claims made by Senator Ted Cruz (R-Texas) in 2017 after Hurricane Harvey hit Texas.
The newspaper claimed that "virtually all [relief funding in the bill] related to the damage caused by Sandy', while acknowledging that the bill included 'other disaster funding for 2012' and 'some eyebrow-raising provisions'.
Importantly, the Post also notes that there is a Congressional Budget Office The result of the calculation is shown that "the money would be spent relatively slowly — 30% by September 2014 and 80% by September 2017" and the remaining spending would come a decade after Sandy.
https://www.theblaze.com/news/cnn-rubio-hurricane-funding The CNN host tries to paint Rubio as a hypocrite for hurricane funding – but the attempt quickly fails