The day before his death, legendary musician David Crosby tweeted about heaven — but not in an encouraging or hopeful way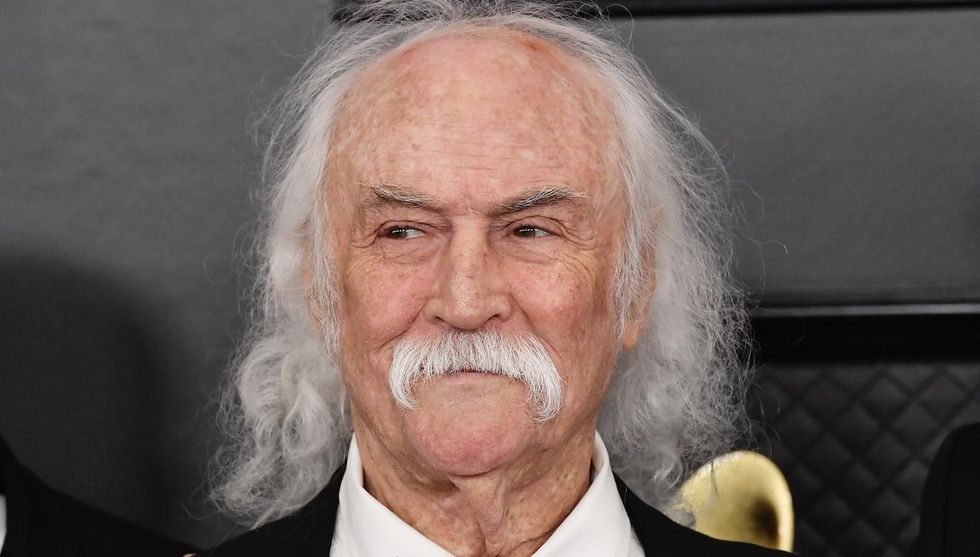 Many Blaze readers heard the news that David Crosby – the legendary singer-songwriter for two legendary classic rock bands, The Byrds and Crosby, Stills, Nash & Young – died on Wednesday at the age of 81.
Interestingly, Crosby tweeted about Heaven the day before his death. But his thoughts on the subject don't seem very encouraging or hopeful, as he says he's "heard" that Heaven is "overrated":
Crosby commented on a series of tweets — which admittedly come across as rather sarcastic — about the likelihood of people with tattoos (or who drink alcohol, eat too much pork, or who are short) going to heaven.
Crosby, in a seemingly equally cheerful mood, tweeted in response, "I hear the place is overrated… cloudy."
On the same day, Crosby responded to a tweet asking for opinions on the best Beatles song for a rainy day, and he
answered "Rigby" – a nod to "Eleanor Rigby," the Fab Four's famously dark tune about a priest preparing a sermon that "no one will hear," along with the protagonist who "died in the church and with her." name was buried". She noted that "no one came to her funeral" and "no one was saved."
Although it is impossible to determine the status of Crosby's relationship with God at the end of his life, the outspoken artist did not shy away from popularizing his thoughts on religion and the possibilities of God, Jesus and heaven throughout his career, and life after death.
What did Crosby have to say?
In relation to "Déjà-vu" – the title track of CSNY's first album, released in 1970 – Crosby said 2008 that it's about reincarnation: "I'm one of those guys who thinks we're going around again. The Buddhists got it right — it's a wheel, and we get on and off. I think life energy is recycled. That's why I I wrote 'déjà vu.'"
Crosby also wrote a song called "Laugh' in response to a conversation he had with George Harrison of The Beatles, who was Telling Crosby about a guru in India. But Crosby remarked that he "does not believe in God and [is] not really a big fan of religion' but he didn't want to offend Harrison either. Thus "Laughing" – a musical answer to George – was born. Some of the lyrics:
And I thought I found the light to guide me through my night and all this darkness

I was wrong, just reflections of a shadow I saw […]

And I thought I saw someone who finally seemed to know the truth

I was wrong, it was just a kid laughing in the sun
Crosby has also bounced quite a bit on Twitter in the last few years of his life, and some of his views on the subject have made it onto his feed:
Here, a Twitter user asks Crosby about his great-grandfather, who was in the Christian ministry, and wonders if faith played a role in his life growing up and how he feels about the church now:
Another Twitter user asked Crosby what he would do if he had a time machine at his disposal. His answer shows at least some curiosity about Christ:
Interestingly, two of Crosby's The Byrds bandmates – Roger McQuinn and Chris Hillman – believe in Jesus, and Crosby commented on this fact in another tweet:
Here are a few similar takes:
A few times Crosby equated "heaven" with "fairy tale":
Crosby sang "Bible thumper crap" in a few other tweets – but also acknowledged the possibility of life after death (though not the "Christian Heaven stuff"):
In the following tweet, Crosby seems drawn from the biblically inspired aspects of "Turn! Turn! Turn!" to distance. – an early hit by The Byrds with lyrics borrowed from the book of Ecclesiastes:
Watch and hear "Turn! Turn! Turn!" from 1965. "To everything turn, turn, turn / There is a season, turn, turn, turn / And a time for every purpose under heaven…"
The Byrds – Turn! Turn! Turn! (1965) 4Kyoutube
Like Blaze News? Bypass censorship, sign up for our newsletters and get stories like this straight to your inbox. Sign up here!
https://www.theblaze.com/news/the-day-before-he-died-musician-david-crosby-tweeted-about-heaven-but-not-in-an-encouraging-or-hopeful-manner The day before his death, legendary musician David Crosby tweeted about heaven — but not in an encouraging or hopeful way