The FBI says Republican whistleblowers interfered with the investigation on Jan. 6 and refused to participate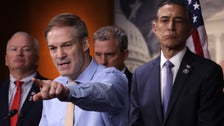 WASHINGTON – Two FBI agents whom Republicans have dubbed "whistleblowers" have interfered or refused to participate in investigations related to the Jan. 6, 2021 attack on the U.S. Capitol, the FBI told lawmakers this week with.
At a hearing Thursday, Republicans led by Rep. Jim Jordan (R-Ohio) claimed the agents were victims of a broader US Justice Department "arming" of Catholics, concerned parents, conservatives and former President Donald Trump.
"If you are one of the good people in our government speaking out about the attacks, you will be a target and face retaliation," Jordan said at the hearing.
Christopher Dunham, deputy director of the FBI, wrote to Jordan that one of the former agents — Marcus Allen, a staff specialist in operations suspended from his job at the FBI field office in Charlotte, North Carolina — had attempted to Convincing colleagues that the Capitol The uprising had been staged by the government.
Allen also allegedly conducted a flawed investigation into a suspect on Jan. 6, prompting the FBI to drop the case — only for another agent to produce publicly available evidence incriminating the suspect.
"Investigative activity revealed that this individual physically assaulted US Capitol Police officers on January 6, 2021," Dunham wrote.
"I received retaliation for providing information to my superiors and others that challenged the official account of the January 6 events," Allen said during the hearing.
Another witness – former FBI Special Agent Stephen Friend of Jacksonville, Florida – has admitted that he refused to participate in cases related to January 6thpartly because he believed some suspects were innocent and they would face unfair jury pools in Washington, DC
Shortly after telling his superiors that he would not assist in Capitol riot cases, Dunham wrote: Friend "entered the FBI room and downloaded documents from FBI computer systems to an unauthorized removable flash drive" and also published " sensitive FBI information publicly on his personal social media accounts without authorization."
"My whistleblowing was non-political and in order to uphold my oath," Friend said at the hearing.
In both cases, the FBI revoked the agents' security clearances, in what Republicans said was unlawful retaliation against protected whistleblowing activity.
"I commend you for standing up for American values, and I commend you for speaking out about what you see as major abuses in the FBI," said Rep. Greg Steube (R-Florida). "As a result of your testimony, the FBI has contacted the enforcement agency of the Democratic Party."
When questioned by Rep. Daniel Goldman (DN.Y.), Friend and another former FBI special agent who testified Thursday, Garrett O'Boyle, both admitted payments from Kash Patel, a former Trump administration official , to have received. The Democrats on the committee had previously highlighted her connection to Trump associates and said it undercuts her claims of being apolitical whistleblowers. Friend now works for the Center for Renewing America, a think tank headed by former Trump budget director Russell Vought.
Jordan dismissed a question about the appropriateness of witnesses who received payments from Trump associates before Thursday's hearing: "How are they supposed to support their family?"
Trump has made false claims of voter fraud in the 2020 election a centerpiece of his campaign to retake the White House, and Republicans on Capitol Hill have continually attacked the Justice Department for investigating its efforts to block Joe Biden from taking office, among other things by inciting a riot in the Capitol.
After the hearing, witnesses shook hands with Micki Witthoeft, the mother of murdered Capitol rioter Ashli ​​Babbitt, who Trump called a martyr. Witthoeft was a regular at hearings in the House of Representatives and even met with House Speaker Kevin McCarthy (R-Calif).
Just before the hearing began, Rep. Loretta Sanchez (D-California) summarized it as "a means of legitimizing the January 6 events."