The force supported the Democratic Socialist of America, which held a pro-Palestine rally after a deadly attack on Israel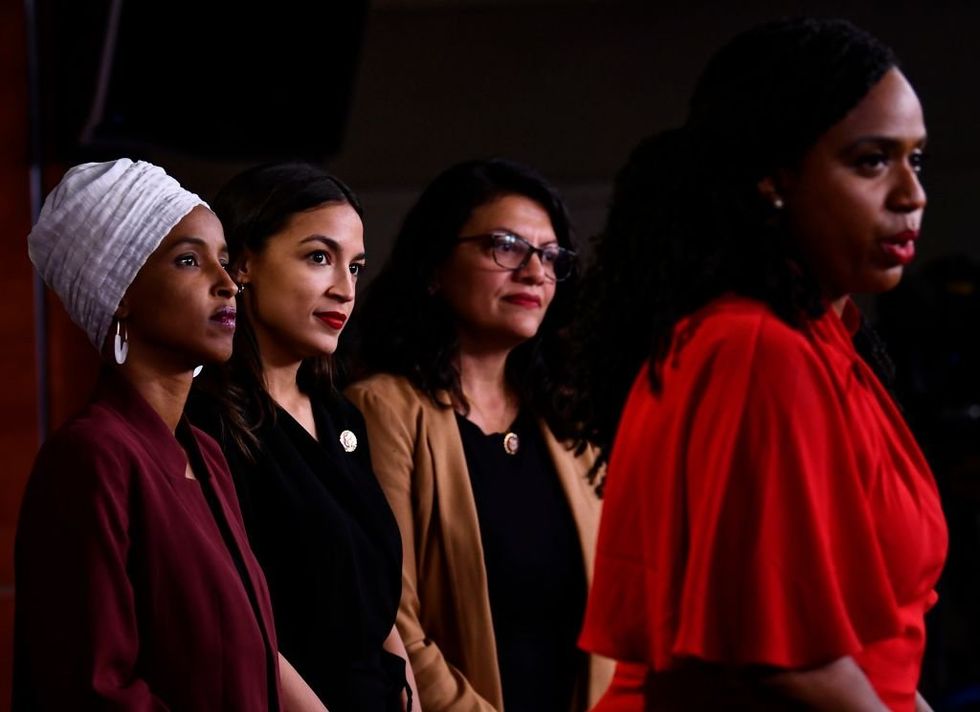 The Democratic Socialists of America – which is supported by members of the so-called "Squad" – is holding a rally in support of the Palestinian cause on Sunday afternoon.
Democratic Socialists of America is the self-proclaimed "largest socialist organization in the United States with over 90,000 members" with a mission to "build the power of the working class to challenge the dominance of the rich and powerful in the five boroughs."
Following the deadly surprise attack on Israel by Hamas militants that left more than 600 Israeli soldiers and citizens dead, the Democratic Socialists of America announced that it would hold a pro-"Palestine" rally at the New York Times at 1 p.m Square would host.
The DSA said"In solidarity with the Palestinian people and their right to resist 75 years of occupation and apartheid." FREE PALESTINE!"
The Democratic Socialists of America urged protesters to take "protest security" seriously because "police repression is no joke." It urged socialist protesters not to go out alone, to "make sure someone knows where you are" and to give someone "your legal information in case of arrest."
In another tweetDSA blamed Israel for the worst one-day massacre of Jews since the Holocaust.
"The DSA steadfastly expresses our solidarity with Palestine," the socialist organization wrote. "Today's events are a direct result of Israel's apartheid regime – a regime that receives billions in funding from the United States."
"Stop the violence. End the occupation. Liberate Palestine," the group declared.
"We strongly condemn the killing of all civilians. "It is imperative that international human rights standards are respected," the DSA said before condemning Israel. "But we must not forget that the Israeli state has systematically denied Palestinians the right to self-determination for decades."
"This happened for a reason," claimed the Democratic Socialists of America. "For over 60 years, Palestinians have been subjected to ethnic cleansing, torture, bombings and home demolitions. Gaza is still under a blockade. As socialists we must act."
There are six progressive U.S. House members supporting the Democratic Socialists of America. Squad members affiliated with DSA include Reps. Alexandria Ocasio-Cortez (DN.Y.), Rashida Tlaib (D-Mich.), Cori Bush (D-Mo.), Ilhan Omar (D-Minn. ), Jamaal Bowman (DN.Y.) and Greg Casar (D-Texas).
Following Hamas's unprecedented attacks on Israel, in which women and children were taken hostage and the victims' bodies paraded through the streets, members of the force issued statements calling on Israel not to retaliate. The Democratic representatives all had a nearly identical message, calling for an immediate ceasefire and de-escalation.
AOC said in one opinion:
Today is devastating for all who seek lasting peace and respect for human rights in Israel and Palestine. I condemn Hamas' attack in the strongest possible terms. "No child or family should ever endure this kind of violence and fear, and this violence will not solve the ongoing oppression and occupation in the region," Ocasio-Cortez continued. An immediate ceasefire and de-escalation are urgently needed to save lives.
Omar said:
I condemn the terrible acts we are witnessing in Israel today against children, women, the elderly and unarmed people who are being slaughtered and taken hostage by Hamas. Such senseless violence will only repeat the back and forth we have seen and cannot allow to continue. We must call for de-escalation and a ceasefire. I will continue to advocate for peace and justice throughout the Middle East.
bush stated:
I am heartbroken by the ongoing violence in Palestine and Israel and grieve for the more than 250 Israelis and 230 Palestinians who lost their lives today, as well as the thousands injured as a result of Hamas militants' attacks on Israeli border towns and the Israeli military bombing of the Gaza Strip. I strongly condemn the attacks on civilians and call for an immediate ceasefire and de-escalation to prevent further loss of life.
Caesar said:
I strongly condemn Hamas's killings and kidnappings and mourn the deaths of innocent Israeli and Palestinian civilians. We must de-escalate the situation before the cycle of violence worsens – and work towards a lasting peace free of terrorist attacks, occupation and war. IIn the coming days we will demand the release of all hostages and the protection of all civilians.
Massachusetts Democratic Rep. Ayanna Pressley added:
These devastating attacks on Israelis are deeply alarming and my heart breaks for the victims and their families. We need an immediate ceasefire and de-escalation. It is long past time to break this cycle of violence and trauma and work towards a just and lasting peace in the region.
At the time of publication, Tlaib had not yet commented on the deadly Hamas invasion of Israel.
Do you like Blaze News? Bypass the censorship, sign up for our newsletter and get stories like this delivered straight to your inbox. Login here!