The head of Russian state television says: drowning Ukrainian children, burning families alive
A Russian TV presenter and his guest conducted an exchange in which the two discussed the drowning, raping and burning of Ukrainians.
In a video uploaded to Twitter on Sunday by Russian Media Monitor creator Julia Davis, RT broadcast director Anton Krasovsky and writer Sergei Lukayanenko dehumanized Ukrainians and casually discussed their rape and killing.
The conversation prompted Michael Clarke, visiting professor of defense studies at Kings College London, to say it was an example of "the complete moral degeneration" in Russian President Vladimir Putin's Russia.
Clarke tells news week: "There are a lot of these conversations on the three main state-controlled channels. This one is only unusual in the severity of his racial malice. The fact that RT's broadcast director is the most commentary is just as significant as the authority he has with the network shows that RT doesn't just give airtime to a random outrageous racist, but caters to moods."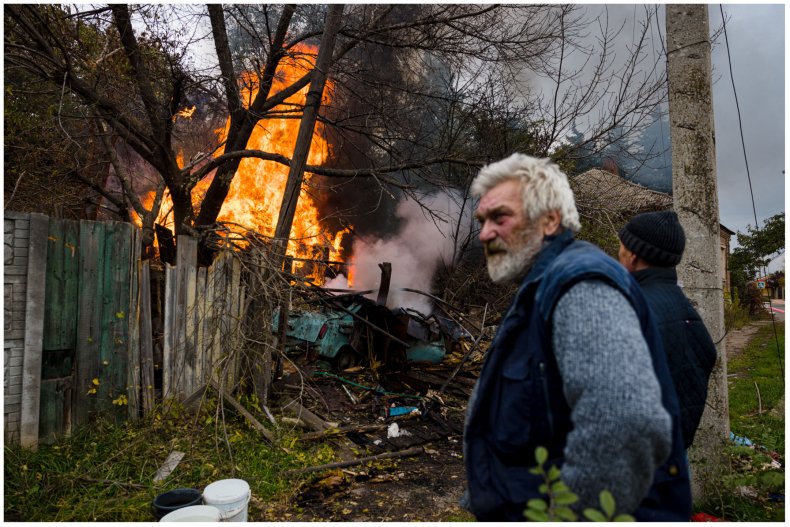 During the exchange, Lukyanenko mentioned stories about distributing packets of Viagra to Russian soldiers as examples of "hysteria" and "sick fantasies."
However, Krasovsky interjected, saying, "For them to rape Ukrainian grannies. Gee, those grannies would spend their funeral savings to get raped by Russian soldiers."
The video has been viewed more than 1 million times since it was shared on Twitter by Davis, also a columnist for The Daily Beast.
Meanwhile, a United Nations report in September found that some Russian soldiers had committed acts of violence against Ukrainians, including counts of rape and torture.
The report states: "There are examples of cases where relatives were forced to witness the crimes. In the cases we studied, the ages of victims of sexual and gender-based violence ranged from four to 82 years."
The abusive remarks, including racial slurs against Ukrainians, continued after Lukyanenko said he had previously been to the country in the 1980s, where children there told him they were being occupied by Russia.
Krasovsky replied: "Whoever says that Moskals (a modern-day slur for Russian) occupied them throws you into the river with a strong undercurrent."
He then lashed out at the alleged condition of houses in a mountain range in western Ukraine, before adding that Ukrainians were to be killed inside.
"Over there is every bit of s*** little house, there's tons of awful monstrous little houses. They s*** all over the Carpathians. [The] Carpathians are disgusting… Shove them straight into these shacks and burn them," Krasovsky said.
Krasovsky then said Ukraine should "not exist at all" and asked if it should "stay on the world map".
Lukyanenko replied: "Yes, because I don't want to live in the same country with many of the people who will stay there. So we will shoot them."
Clarke tells news week that he believed the comments would be "almost entirely negative for Russia's general campaign".
While he said the comments would make little difference to those who shared racist and genocidal beliefs in the country, Clarke said most Russians would find the comments repulsive.
"Most Russians are certainly not that barbaric and seem increasingly concerned with how the country is now waging war, not only against the Ukrainian leadership but against the family and relatives of another Slavic country," Clarke said. "I suspect it will go viral in the outside world…as Krasovsky's view is like an honest code for what we now suspect in Putin's distorted picture of the problem."
He continued: "His role at RT can't help but think about what the Kremlin wants to hear. If he had said anything half as insulting about Russian soldiers or other Russian people, he would have been arrested long ago. This is a good example, I suspect, of the complete moral degeneration in Putin's Russia. This is not the real Russia. But it is official Russia for now."
news week has asked the Kremlin for comment.
Other cases when Russian state television speaks negatively about Ukraine
There have been numerous instances where Russian state television has appeared in front of prime audiences with increasingly aggressive talking points about the Ukrainians and the war itself.
Earlier this month, TV presenter Olga Skabeeva told viewers that Russia will continue raining missiles on Ukraine, despite objections from "Western leaders."
Last month, Skabeeva said Russia would use nuclear weapons if it felt the country was threatened with destruction.
https://www.newsweek.com/russian-state-tv-boss-says-drown-ukrainian-children-burn-families-alive-1754116 The head of Russian state television says: drowning Ukrainian children, burning families alive