The Hollywood actor joined PETA in protest at Starbucks' premium for vegan milk by supergluing his hand to a counter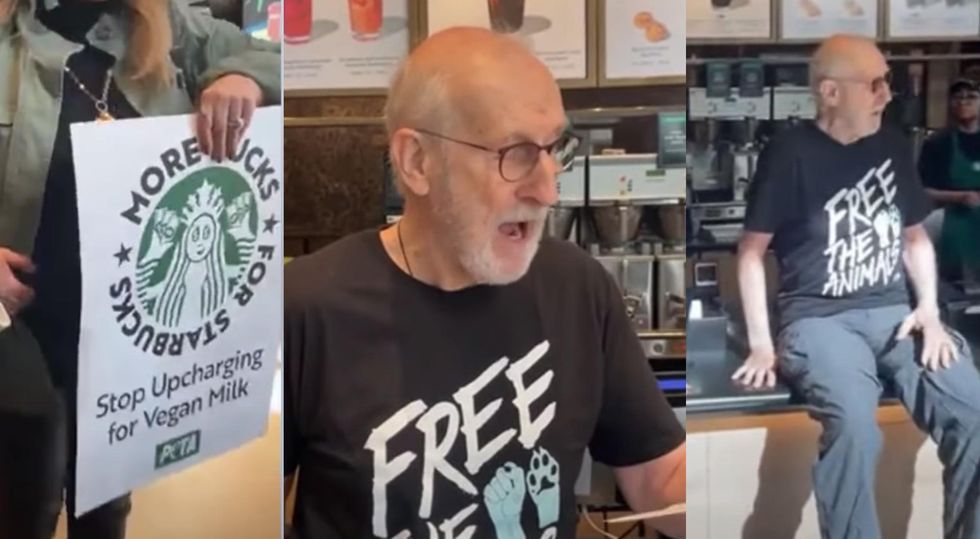 A Hollywood actor protested against a surcharge on vegan milk at Starbucks Super sticking his hand to a counter in her store in New York City, New York.
"When are you going to stop charging us more for vegan milk?!" yelled James Cromwell as he read from a prepared statement. "When are you going to stop making huge profits while customers, animals and the environment suffer?!"
The Oscar-nominated actor was part of a PETA protest that argued that the vegan milk supplement penalizes people for being lactose intolerant, a condition that affects people of color more often than white people.
"When are you going to stop punishing people for their ethnicity or their morals?!" he continued. "The pointless impact hurts animals!"
Cromwell and other activists then chanted: "Save the planet, save the cows. Stop the vegan surcharge now!"
When police arrived and told them to leave, Cromwell and another activist, who had also super glued himself to the counter, broke away and left. They had protested for about half an hour.
The bizarre protest was slammed online with many comments that the activists appeared to be fighting a very obscure "First World problem".
"James Cromwell, who taped himself to a Starbucks counter in Manhattan to protest that they charge extra for vegan milk, is hands down the WHITE s*** I've ever heard of in my fucking life," read one very popular tweet.
Starbucks released a Explanation by a speaker about the event.
"We respect our customers' right to respectfully voice their opinions, so long as it doesn't disrupt our business operations," said spokeswoman Elizabeth Summers.
The 82-year-old actor is a well-known animal rights activist. Cromwell is best known for his roles in the films Babe, LA Confidential, and the television series Succession.
Here's a local news report on the bold protest:

"Succession" actor James Cromwell glued himself to the Starbucks counter with superglue in protest

www.youtube.com

https://www.theblaze.com/news/actor-glue-starbucks-vegan-milk The Hollywood actor joined PETA in protest at Starbucks' premium for vegan milk by supergluing his hand to a counter