The hosts of The View lash out at Ron DeSantis after he thanked President Biden for responding to Florida's needs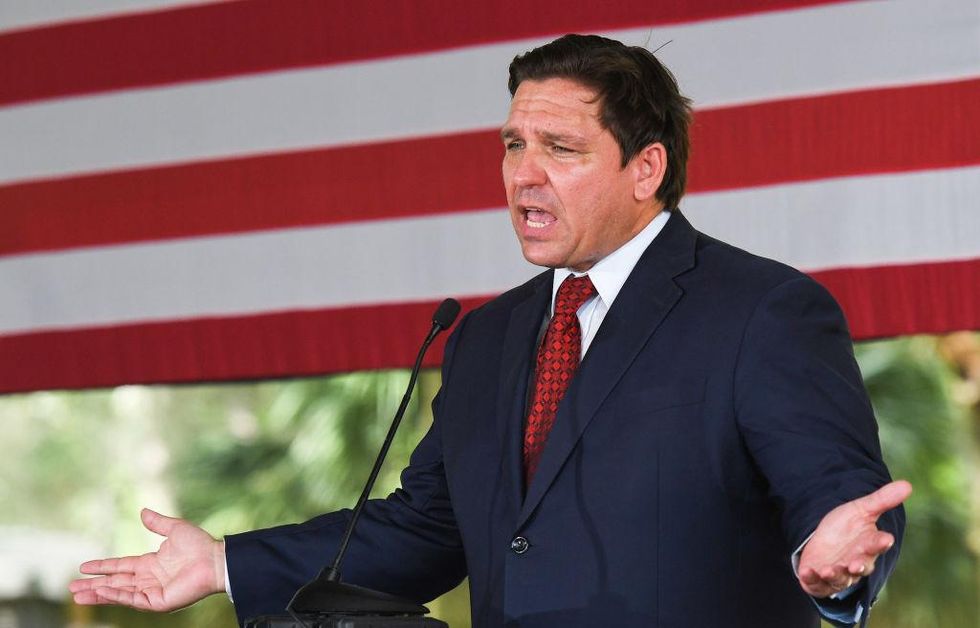 The permanently disaffected co-hosts of "The View" pick how Florida Gov. Ron DeSantis is responding to Hurricane Ian after Republican Gov. thanked President Joe Biden for helping his state.
DeSantis told Fox News host Sean Hannity on Tuesday that Biden spoke to him about coordinating preparations for Hurricane Ian, which is expected to be a dangerous Category 4 storm when it makes landfall on Florida's southwest coast sometime Wednesday afternoon.
The President then turned to DeSantis Reporters had noticed He contacted several Florida mayors but did not appear to have spoken to the governor. "The View" played excerpts from DeSantis' "Hannity" interview, in which he described his phone call with the President.
"When lives and property are at risk in this way, you know we all need to work together regardless of party lines. The Biden administration approved our request for a pre-landing statement and did so very quickly. So we're grateful for that," DeSantis told Hannity.
"I feel like the administration wants to help," he said. "I think they realize this is a really significant storm."
Whoopi Goldberg scoffed at DeSantis' response as if attacking Biden by thanking the President.
"Well, I mean, he's the President of the United States. That includes Florida," she said. "You don't have to agree with him on things, but these are his people, your people, our people. That's what you're supposed to do."
"Isn't it socialism when the state helps you?" Joy Behar intervened.
"Like Social Security, Medicare?" added Asunción aka "Sunny" Hostin.
"Yes, and the fire brigade must come. And the police, I mean, socialism!" Behar said, waving his hands mockingly.
The ladies continued to speculate about what kind of leadership DeSantis would show as he leads Florida through this natural disaster.
"He'll be fine. I think he'll handle it, he's not stupid," Behar said.
"I hope he can organize like the governor of Pureto-Rica — he took a lot of flak for that, but he really organized Puerto Rico and especially organized those mayors and the mayor of San Juan," Hostin said, referring on the Puerto Rican response to Hurricane Maria.
She went on to say that DeSantis will be successful because he likes to take charge.
"DeSantis, I think, likes to have a little fiefdom," Hostin said.
Sara Haines took the floor to criticize the media coverage of DeSantis' call to the president, noting that the "packages" provided by ABC told them to emphasize that DeSantis "praises Biden."
"When did politics get so ugly that you can say 'I'm grateful' … which I'm not criticizing about the language, I'm saying the coverage of it was like clickbait," Haines said.
Hostin attempted to blame former President Donald Trump for media coverage of how a Democratic president and Republican governor work together in a crisis by falsely claiming that Trump has never worked with Democrats. But Alyssa Farah Griffin, who worked in the Trump administration, shut them down.
"What happened when we had some kind of disaster, when we had any problems, Trump didn't call the blue state governors," Hostin claimed.
"No, that's not true," Farah Griffin said, noting that the White House has hosted former New York Gov. Andrew Cuomo and others "a number of times" during the COVID-19 pandemic, for example.
"We did it during COVID, it's just a fact," she said as Hostin made a face.
But Goldberg broke in to say the reason the media is "glad" to see bipartisan leadership in a crisis is because "normalcy is returning" after Trump.
The panel further agreed that DeSantis was "smarter than Trump," but Behar brought politics back into the discussion by linking hurricanes to climate change and attacking DeSantis for not aligning himself with a climate alarmist agenda.
The discussion ended after Hostin observed that DeSantis faces re-election in six weeks and that this hurricane will be a "test" for him.
DeSantis, meanwhile, urged Americans to pray for the people of Florida Wednesday morning and said Hurricane Ian was shaping up to be a "historic storm."
"It's going to really make a difference in the communities of Southwest Florida and have a profound impact on our state," the governor said.
As of 12 p.m., Ian remained an extremely dangerous Category 4 hurricane, with wind speeds just 2 miles per hour short of Category 5 status. The storm's eyewall has begun to land over the islands of Sanibel and Captiva in southwest Florida, according to the National Weather Service.
The National Hurricane Center said at 1 p.m. the storm was about 35 miles west-southwest of Ft. Myers and about 45 miles southwest of Punta Gorda. Ian's maximum sustained winds were recorded at 155 mph.
"You need to get inside your home and prepare for a period of sustained damaging, potentially devastating winds," NHC acting director Jamie Rhome said in an update Wednesday morning. "Don't go outside at all. Do not attempt to evacuate at this time. You really need to go inside your house and drive that part out."
He urged central Florida residents to prepare for heavy rain and possible flash flooding.
"There is definitely a high risk of very heavy rain on the I-4 corridor, which will result in flash flooding and impassable roads," he said. "I'm telling you, you just have to get where you're going, stay and plan to be there. We lose so many people after a storm because they might get off and wander, drive onto flooded roads, power lines might be out whatever they happen to be encountering. I know you want to see what happened. I know you want to see if your house, your neighborhood, is okay. But please stay indoors until conditions allow you to move safely."

9/28/22 NHC Live Tropical Update

youtube

https://www.theblaze.com/news/desantis-thanked-biden-the-view The hosts of The View lash out at Ron DeSantis after he thanked President Biden for responding to Florida's needs