The layer of ash from the eruption is expected to hit residents
After Mauna Loa erupts, the island of Hawaii is expected to cover up to a quarter of an inch in ash.
Mauna Loa, this is it largest active volcano on earth, began erupting at 11:30 p.m. Hawaii local time on November 27, the United States Geological Survey (USGS) announced at 11:45 p.m.
An Ashfall Advisory has been rolled out for the entire island of Hawaii through 6 a.m. HST Monday, the Hawaiʻi Emergency Management Agency said in a tweet.
"Up to a quarter inch of ash is expected around and in front of Mauna Loa. People with breathing difficulties should stay indoors and cover their nose/mouth with a cloth or mask," the tweet said.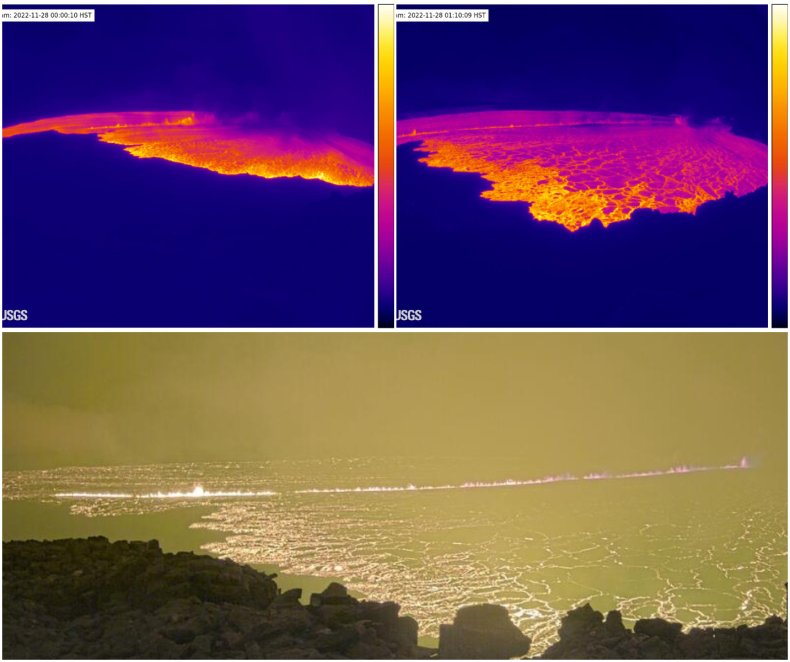 The USGS statement states that the lava flows are currently contained in the summit area and do not threaten hillside communities. However, they warn that the winds could carry volcanic gas, fine ash, volcanic glass, and Pele's hair in the wind.
Pele's hair is a light fiber of volcanic glass that can damage lungs as it is very brittle and sharp.
Volcanic gases include carbon dioxide (CO2), hydrogen halides (HF, HCl, HBr), hydrogen sulfide (H2S), and sulfur dioxide (SO2). CO2 can flow to low-lying areas and cause asphyxiation in humans and animals when it reaches concentrations above 13 percent, while SO2 gas is irritating to the eyes, skin and respiratory tract and can form volcanic smog and acid rain. The other gases are also toxic if inhaled and can poison local waterways if dissolved, the USGS explains.
In addition, due to its abrasive nature, volcanic ash can cause breathing problems and damage the lungs if inhaled, as with Pele's hair.
Mauna Loa is located on the island of Hawaii in Hawaii Volcanoes National Park. The eruption is currently taking place in its summit caldera called Moku'āweoweo. The volcano, which is between 700,000 and a million years old, has not erupted since 1984. However, in September he began to show a higher level of activity.
The USGS reports that the number of earthquakes below the summit of Mauna Loa increased from 10-20 per day to 40-50 per day in mid-September, raising the alert level from Normal to Advisory. Now the level is at warning.
It is very difficult to predict the extent of damage this eruption will cause, although previous evidence shows that Mauna Loa typically erupts lava at a very high rate. According to the USGS, during an eruption in 1950, lava traveled from a vent 10,000 feet above sea level to the ocean in about 3 hours.
"If the eruption stays in Moku'āweoweo, the lava flows will most likely be trapped within the caldera walls. However, if the eruption vents migrate outside their walls, the lava flows can move rapidly downhill," the USGS said in a statement.
Currently there is no threat to communities downhill, nor are flights to the island of Hawaii affected.
"The Observatory will continue to monitor and share information with emergency managers as the situation evolves and update as necessary. About half of Mauna Loa eruptions never progress past the summit area." tweeted the Hawaii Emergency Management Agency.
https://www.newsweek.com/mauna-loa-volcano-eruption-ash-warnings-hawaii-residents-1762675 The layer of ash from the eruption is expected to hit residents